Equipping our facilities services teams with the latest cleaning innovations, tools, and training.
Connie equips our teams with the latest innovations and trains them in best practices.
Connie has helped us improve efficiency and safety at client sites across both the U.S. and Canada.
Connie's number one goal is to ensure the well-being of our team members
Connie first discovered her passion for assisting janitorial crews while working as a site lead. Now, as a Service Solutions Manager at C&W Services, she helps our teams across the U.S. and international janitorial accounts work safely and efficiently.
A history of innovation.
After graduating from the University of California at Davis, Connie started working as a technical writer, but she soon found she wanted to work alongside the operational teams she was writing about.
"I was sent to sites to assist in content development for manuals and procedures, but as I visited sites, whether it be office space, lab services, or GMP, I realized I wanted to run operations," she says. "So I worked in all areas and completed routes in each program we offered to the client to fully understand the janitorial, GMP, and lab services we provided. After I completed management training, I started working as a supervisor managing front-line teams. I grew to oversee more accounts in the West, and I quickly established a close janitorial team within the sites. Ultimately, that is what fueled my interest in the work I do today. Every day my goal is to make sure our employees complete cleaning tasks better, more efficiently, and as safely as possible. All the while knowing the majority of our staff have second jobs and have families they go home to every night."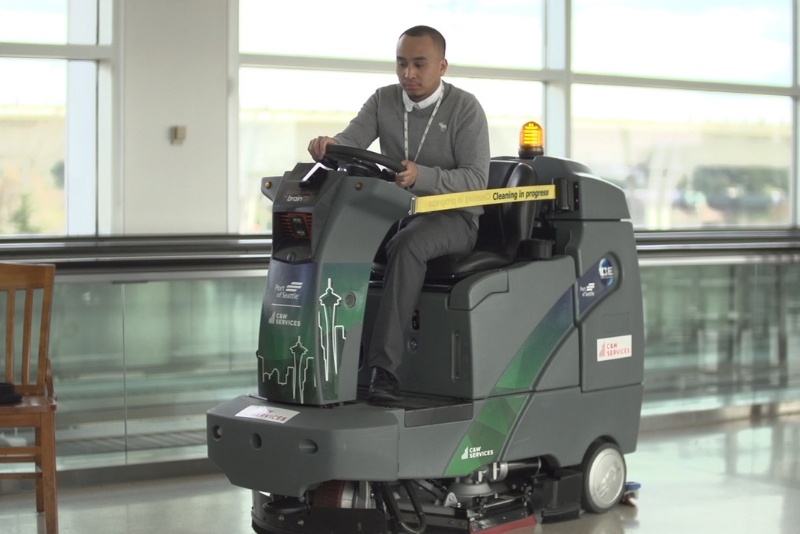 As a Janitorial Service Solutions Manager, Connie is heavily involved in suggesting and implementing the technology and equipment we use in our service lines.
"We have a thorough vetting process for our technology and equipment," she says. "We examine the productivity of the equipment, efficacy of cleaning, and also question if it truly fits the area type and contractual scope of work. All technology and equipment are examined this way. We want to make sure our teams not only see great improvement in cleaning, but also the ease of completing tasks daily."
Once the program has been chosen based on the solution, Connie will assist the operations team in training and ensuring equipment is in the field. "I'm working on transitions at the moment," she says. "We solution the services that we will provide based on the RFP. We also build programs and assist in equipment lists for new accounts. It's such a fulfilling process' not only to train our front-line staff on the new equipment, but for our team to see a better way of cleaning and directly see how it makes their jobs and tasks easier. The excitement in our employees when they see the equipment is great. It is incredibly rewarding to hear from employees that they feel empowered because our company wants our staff to have the latest tools and equipment. It is captivating to see how our tools and equipment really take hold at a site."
Improving efficiency at some of the world's most prestigious office buildings.
For an example of the kind of work that Connie does, check out this video about how we recently implemented five new cleaning innovations at the world headquarters of Cushman & Wakefield.
Who takes care of your facility?
Connie is one of many stories we have from the field that demonstrate how our team's culture is the backbone of our service delivery success. We pride ourselves on delivering a broad portfolio of services, developing and empowering our people, and defining a new status quo.
Get inspired and read more stories about employees just like Connie.
Let's connect about how our highly engaged team can help you.