As an apprentice, Justin is learning new skills from our industry-leading facilities experts.
When Justin first enrolled at the Massachusetts Maritime Academy, he didn't have a specific career in mind. However, after speaking with a few friends about what they were enjoying, he decided to take a further look at the facilities major. And after experiencing first semester classes, sea-term, and personal investigation, he ultimately decided that facilities engineering was the way to go.
"I never thought I'd be working in the facilities field," he says. "But once I got to school I found the work really interesting. It seemed like it might be more difficult in the short term, but there was clearly great long-term potential."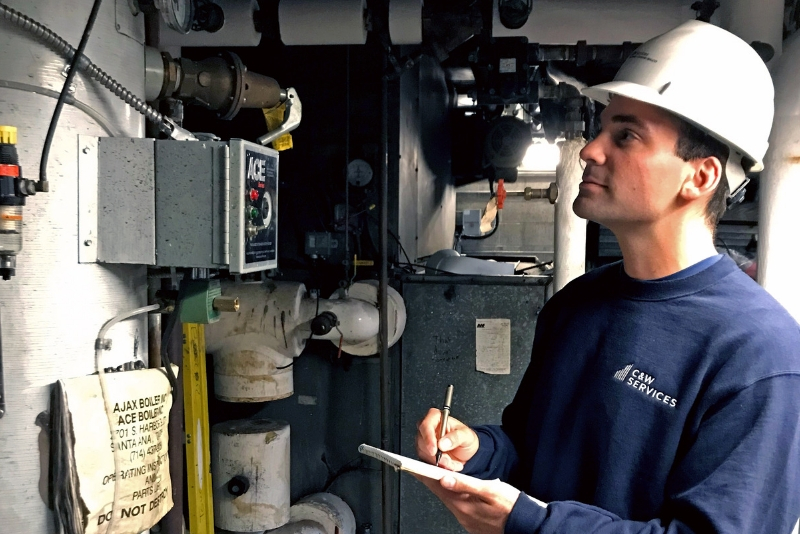 Justin didn't have to wait long to see that potential come to fruition. He was offered a job with C&W Services in April 2018, three months before he graduated from the Maritime Academy.
"A recruiter reached out to me and after interviewing with the team everything fell into place quickly," he says. "I've now been out in the field for over a year."
Upon joining C&W Services, Justin enrolled in our apprenticeship program, which provides participants with on-the-job training and tuition assistance to attend a local trade school.
"I applied to the apprenticeship program as soon as I heard about it," he says. "Because when else are you going to get that kind of opportunity? If I said no, I'd be limiting my future career. And so far, the program has been great. There's a freeness to it. You can ask questions, watch experts work, learn all these little tricks of the trade."
Looking toward the future, Justin is eager to get his state and federal licenses through the apprenticeship program. After that, he says he sees a lot of professional role models at C&W Services that he wants to try to emulate.
"I'm meeting all these senior-level people who were in my role maybe 10 or 20 years ago, and that's inspiring. I want to eventually develop the skills to do what they do—handling schedules, working with vendors, managing an entire building. That's a great career path."
Who takes care of your facility?
Justin is one of many stories we have from the field that demonstrate how our team's culture is the backbone of our service delivery success. We pride ourselves on delivering a broad portfolio of services, developing and empowering our people, and defining a new status quo.
Get inspired and read more stories about employees just like Justin.
Let's connect about how our highly engaged team can help you.