Discovering a new, exciting career path in facilities services.
For a group of young men, an afternoon field trip opened their eyes – and the door – to a new career path. Students from Ron Brown College Preparatory High School (RBCPHS), which is part of the DC Public Schools system, took a behind-the-scenes tour of the United States Conference of Catholic Bishops and came away excited to enter the facility services industry directly from high school.
"Facilities management sounded so boring when I first heard of it, but now I see that you would be problem-solving and really getting into the equipment to make sure everything works efficiently," says Khalil Simpson, a student at RBCPHS.
Other students on the trip shared Khalil's enthusiasm. "I can definitely see myself pursuing this because I would actually be doing a job that a lot of people count on for their day to day safety in the building," says Antwan Peters.
And Tim Brandon was excited about the advancement possibilities that a career in facilities can offer. "I want to start my internship with C&W Services, so when I get certified in HVAC, I can come back and work with them. I can see myself starting with the internship and moving up to manage my own team."
Tackling the trade-skills gap by showing students the benefits of a career in facilities.
While the skilled labor gap in the U.S. is a large and growing challenge, we're enthusiastic about grassroots efforts like our outreach to RBCPHS. We look forward to working with Assistant Principal, Leslie Edwards on similar field trips in the future. These kinds of efforts are bringing an influx of talent to our client sites, and creating meaningful careers for young people. And through initiatives like our apprenticeship program, which offers on-the-job training and tuition assistance to attend trade school, we're always looking to support and develop the next generation of talent.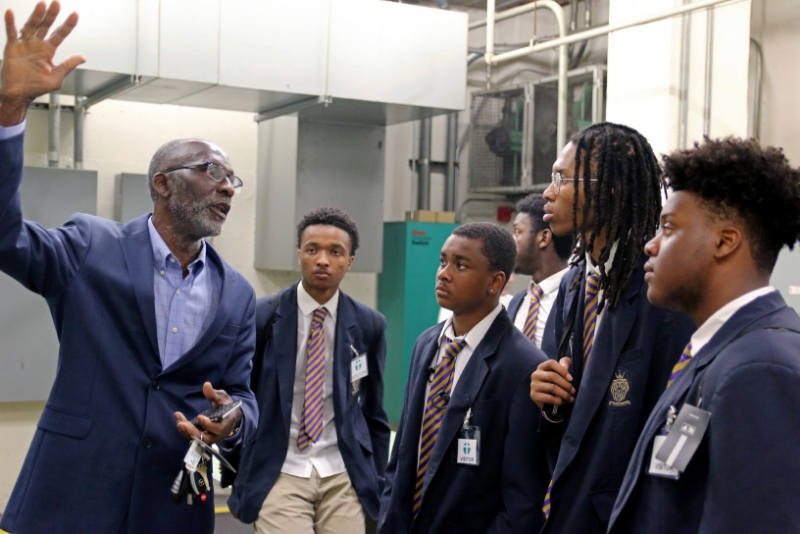 Who takes care of your facility?
This is one of many stories we have from the field that demonstrate how we're developing and empowering our people and defining a new status quo.
Get inspired and read more stories about how we're developing the next generation of facilities talent.
Let's connect about how our highly engaged team can help you.