Meet Jonathan & Matthew.
—Come skate on the best ice in the city."
That's the message that greets you when you walk into one particular ice house on a C&W Services' client site, and it's a claim that the facility's two operators, Jonathan and Matthew, take very seriously.
"There's a huge difference between good ice and bad ice, and we pride ourselves on putting out a good product," says Matthew. "We put in the hours chipping the boards, making sure the hockey puck slides nicely. We're always working to make it better."
For Matthew, this dedication to producing high-quality ice is all part of his life-long love of hockey. "I grew up playing competitive hockey. It was a huge part of my life. And so, when my career as a player ended, I didn't want to leave the sport behind. That's what led me to this role."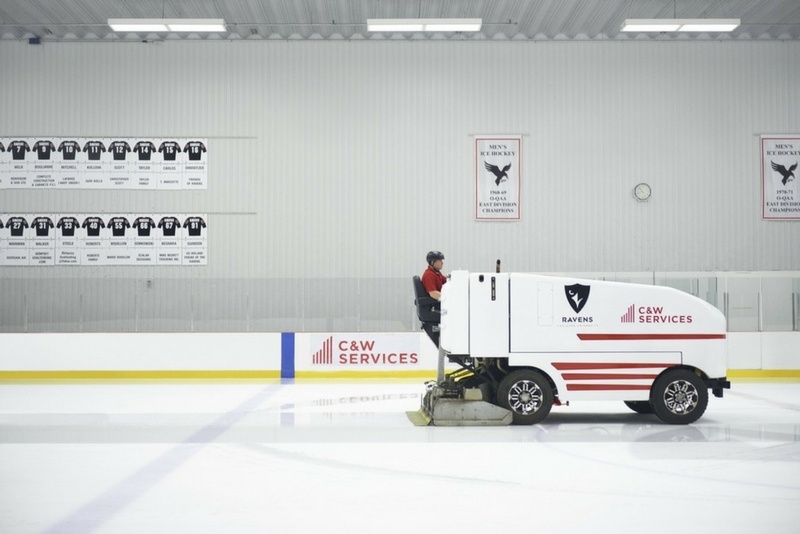 When science meets dedication.
The ice rink at this client site sees intense daily use. There are recreational hockey leagues, school-run intramurals, and both the men's and women's varsity teams practice daily. The rink is also sometimes open to the general public. This means that Jonathan and Matthew aren't just busy; they also have to work efficiently.
"We regularly monitor the thickness of the ice, and one of us is out there smoothing at least once every 30 minutes," says Matthew. "Since we have to factor in things like prep time and repairs, it's imperative that we identify and solve any problems as quickly as possible."
For example, Jonathan and Matthew once noticed that a lip had formed on the edge of the rink, pushing some of the boards down into the ice. It was a clear safety issue, and they fixed it by creating a little wedge out of plastic, effectively smoothing over the damaged area.
"We love coming up with little creative solutions to solve problems," says Jonathan. "It's a great feeling—solving issues before they become noticeable to the public."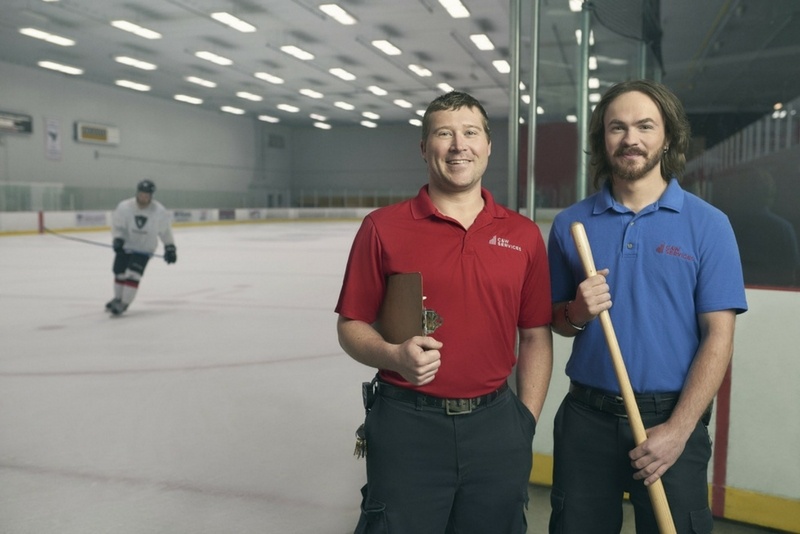 Safety on the ice.
All of this activity means that Jonathan and Matthew need to stay safe on the ice.
"Hockey is dangerous, and maintaining a rink can be risky, too," says Matthew. "You need hearing protection, safety glasses, and steel-toed boots. Plus, once you're out there resurfacing the ice, you can't step down onto the rink. It's deathly slippery. It really takes two people to safely do the job. Jonathan and I really rely on each other."
Maintaining an ice rink isn't all hard work and safety precautions, though. Jonathan and Matthew sometimes get to enjoy the fruits of their work. "We regularly get NHL teams practicing here, even though they're supposed to practice closer to the NHL rink. That's a pretty cool feeling—knowing that the pros like your ice."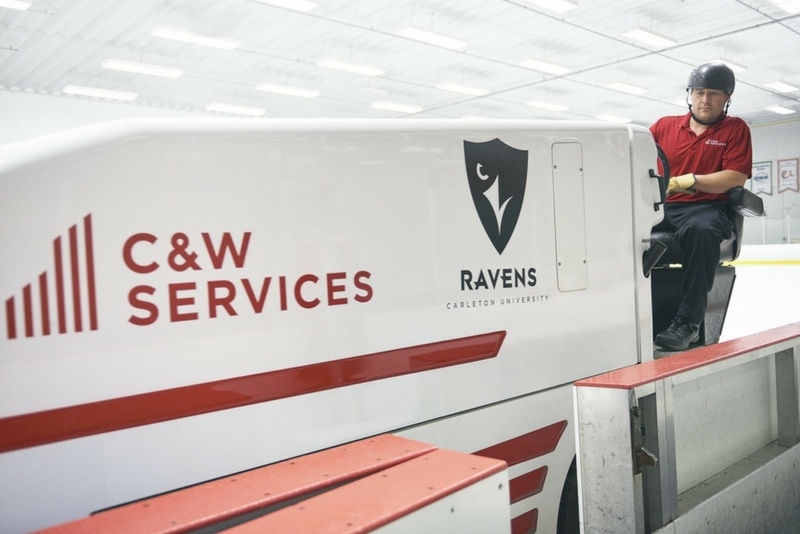 Who takes care of your facilities?
Jonathan and Matthew are some of many stories we have from the field that demonstrate how our team's culture is the backbone of our service delivery success.
Get inspired and read more stories about employees just like Jonathan and Matthew.
Let's connect about how our highly engaged team can help you.