Redefining janitorial services at large public venues.
Roy Alonso is the general manager at a major airport in the Miami area, and he says there's no such thing as a quiet day at the site. "We get 45 million travelers passing through here each year," he says. "Providing great services in that fast-paced of an environment is a daily challenge. It can sometimes feel like we're working the Super Bowl."
Roy's team is more than up to the challenge, though. Between hard work, expert training, and the implementation of new, innovative technologies they're able to help the airport project a world-class image. They've also established a culture of good customer service and going above and beyond for travelers.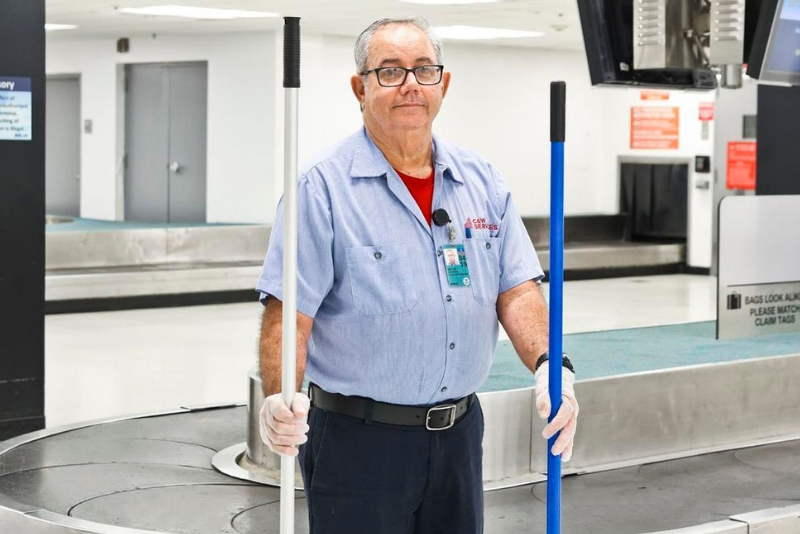 A recent example of that culture in action involves Marie, a long-time team member at the site. Marie discovered a cell phone in the bathroom while she was cleaning and began to follow the proper procedure for a lost item—contacting a police officer and completing a found property report. A few minutes later, the owner of the phone walked back into the bathroom. Marie returned the phone to its owner, who was very appreciative.
"I was just in the right place at the right time," Marie says. "I'm naturally a people's person, so any chance I have to make a positive impact on someone's day, I take it."
This may be a small example of our team's culture in action. But we know that at major sites, such as this eight million square foot airport, our team's culture leads to positive results day in and day out.
Who takes care of your facility?
Marie is one of many stories we have from the field that demonstrate how our team's culture is the backbone of our service delivery success. We pride ourselves on delivering a broad portfolio of services, developing and empowering our people, and defining a new status quo.
Get inspired and read more stories about employees just like Marie.
Let's connect about how our highly engaged team can help you.