Meet Neil.
After serving in the United States Marine Corps for four years and being deployed to Afghanistan, Neil began to wonder about what was next. He wanted a career that afforded him stability and the opportunity to settle down with his girlfriend.
"We stayed together the entire time I was in the Marines," he said. "We're still together now."
And so, Neil took a job managing a shipping and receiving dock at a C&W Services client site. Neil says he loves the work environment and the career opportunities that are available to him. "C&W Services is a great stepping stone. Anything I can do to continue my upward progress, I try to do."
Building on experience.
During his time in the Marines, Neil managed ammunition, and he knows that the organizational skills he developed in that role have helped him thrive at C&W Services.
"I kept track of a lot of numbers. I was very, very, very tightly organized. I also learned how to use all kinds of equipment, so when someone asks if I can use a pallet jack, it's not a problem."
Neil's experience as a Marine also gave him a deep appreciation of safety culture, and he goes out of his way to make sure that each and every one of his coworkers are doing their jobs in the safest way possible.
"It's important that people are harnessed up, that they have a clear path, and that their work area is clean. We're transporting thousands of dollars' worth of merchandise. So if we let safety fall by the wayside, it would just be chaos in here."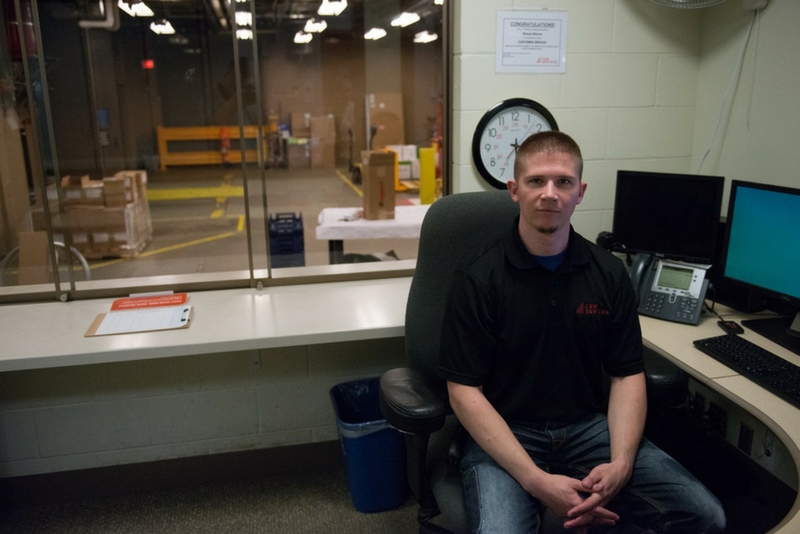 A fulfilling career.
After three years in his current role, Neil believes that facilities management is a fulfilling career for veterans.
"It's pretty close to the Marines. You deal with people on a daily basis, it's protocol-based. You have a few tasks that are your mission for the day. They might alter a little bit. They might change a little bit, but otherwise your general day is still formatted."
He's even recommended a career in facilities management to a few of his friends from the Marines, telling them about how it's a smooth transition, about how—in a facilities role—they can put the skills they developed while serving to new and interesting uses.
"It's boot camp all over again," he says with a smile.
Mailroom Innovation
Neil and the rest of our mailroom, reception, and dock staff across the US and Canada work tirelessly to provide our clients with efficient and effective mail services. Our innovative integration system helps streamline your core business and sustain a competitive advantage through superior dock solutions, document management, mail management, and office support. Outsourcing mail and dock services help our customers focus on their core business while we deliver our expertise in the area of mailroom management. Read about how we've delivered successful mailroom services, and see if we can help take your business to the next level.
Who takes care of your facilities?
Neil is one of many stories we have from the field that demonstrate how our team's culture is the backbone of our service delivery success.
Get inspired and read more stories about employees just like Neil.
Let's connect about how our highly engaged team can help you.