Ensuring that all events at Gillette Stadium are safe, secure, and on schedule.
For Steve, a labor technician at Gillette Stadium, there's never a quiet day at work. Depending on the event, he might be talking with Tom Brady, catching up with his friends in the AC/DC crew, or watching an intense New England Revolution game. "It's an exciting place to work," he says. "I get to see a lot."
Handling maintenance, janitorial, and event set-up and breakdown at a facility as large and complex as Gillette Stadium requires that Steve and his team work both efficiently and safely. Patriots home games are an especially demanding event. "On game day, we arrive at 5:30 in the morning and start setting up entrances, fences, signs, and corrals," says Steve. "With the entire crew working together it's about a three-hour process."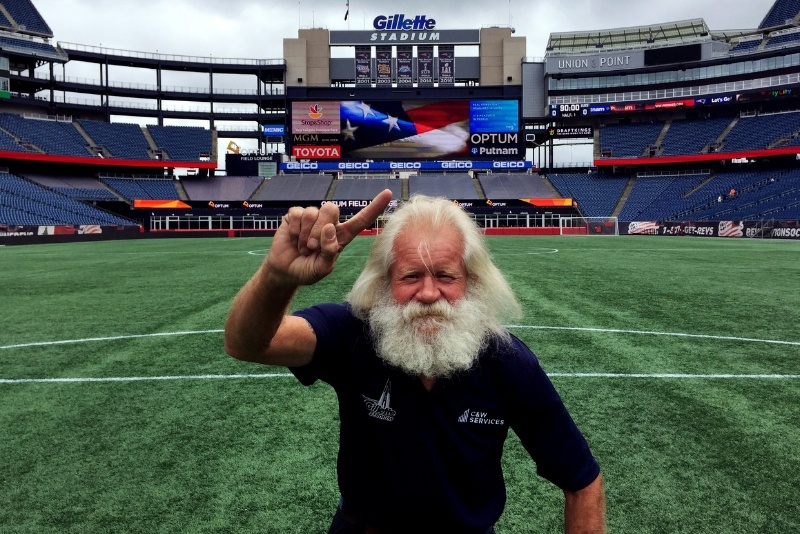 "Steve is my point person," says Robert Sturm, Operations Manager at Gillette Stadium. "I know I can always rely on him to get what needs to be done done."
Steve is also a huge Patriots fan, and, through his regular presence at the stadium, has become a bit of a local celebrity. "It started by me barking at the players as they came out of the tunnel. I—ll howl, muscle flex. Some of the players liked it and started to talk to me. Now every home game I high-five and talk to Tom Brady. Some news outlets have seen it and asked for an interview, and I've been in the local paper, Barstool Sports. I've even started to be recognized around town. People from Maine and New Hampshire have even told me they've seen me on the news."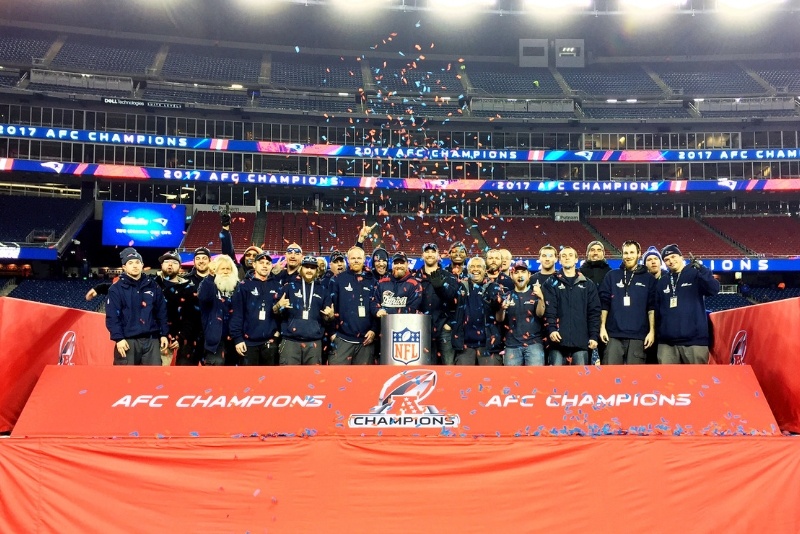 Ensuring facilities success at large stadium events.
Steve has been working at Gillette Stadium since 2014, and he's been working concerts in the greater Boston area since the 1970s. "I've met a lot of good people over the years," he says. "I know a lot of the people in the AC/DC, U2, Metallica, and Kenny Chesney crews."
When it comes to set-up and breakdown at Gillette Stadium, time is of the essence, so Steve and his team focus on working as an effective unit. Set-up usually begins anywhere between three days to a week before the show, and most teardowns have to be completed in a single day.
"On concert day, Steve is in first thing in the morning, and we typically get out of here around midnight," says Robert Sturm. "When we have multiple shows, the second day is even tighter and more tiring. We get home from the first show at maybe one o—clock in the morning and then have to be back at the stadium for seven A.M. Those type of situations are all hands on deck. We all have to work as a team to make sure the job gets done on time."
Who takes care of your facility?
Steve is one of many stories we have from the field that demonstrate how our team's culture is the backbone of our service delivery success. We pride ourselves on delivering a broad portfolio of services, developing and empowering our people, and defining a new status quo.
Get inspired and read more stories about employees just like Steve.
Let's connect about how our highly engaged team can help you.