Meet Shannon.
Two decades ago, Shannon joined C&W Services.
Twenty years later, he's still here, serving as account manager of the Cargill Corn Milling Account in Blair, Neb. Shannon has been with Cargill since C&W Services became responsible for the company's facilities services needs.
"I started as grounds to get my foot in the door at the company," he says. "I knew how to weld, and I was a pretty good mechanic, so I was promoted pretty quickly."
A rich facilities history.
His first position with C&W Services was grounds technician for the Cargill site in Wahpeton, N.D. Other positions include account manager in Memphis Tenn., and mechanic and planner roles. He started at the Blair site in 2010.
"I have learned a lot from a lot of great people in the industry," he says. "Cargill has been a great customer for us."
Shannon notes that his experience is what makes him such a great leader for his team. The employees respect him because he knows what he's doing and is always there for them, making life easier for him, his staff and the client.
"I think I am a valued leader because I know where employees are coming from because I have been there, and I know what it's like," he says. "I value the participation of employees in making their jobs better by improving the process and making things safer for the customer and everyone on site.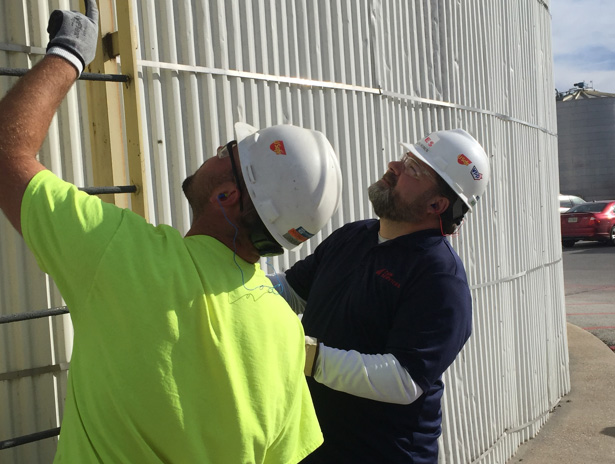 Staying safe.
Both for themselves and the client, the Cargill team has implemented a suggestion program to help them improve their services. The employees and the client learn what needs work and what, if anything, is unsafe. He notes that the customer is very appreciative and that it helps everyone.
His belief in the importance of safety aligns with that of C&W Services, a factor that makes Shannon stay with the company.
"I like that C&W Services and Cushman & Wakefield make safety a priority, and that they value their employees. That is the way I think. Those are things I value. I think the fit is perfect."
It's no shocker, then, that his 20-year tenure will only continue to grow.
"I want to continue to improve and make our company available for new and ground breaking ideas," he says. "I love what I do."
Who takes care of your facilities?
Shannon is one of many stories we have from the field that demonstrate how our team's culture is the backbone of our service delivery success.
Get inspired and read more stories about employees just like Shannon.
Let's connect about how our highly engaged team can help you.