By Holly Borrego, senior director of cleaning services
The bitter cold of January is here once again, and with it comes an uptick in flu-like symptoms and illnesses. To help keep you from getting the flu this year, we've put together a list of helpful tips to implement at your workplace to minimize the spread of germs. For those in the facilities industry, these tips are especially important, as we're responsible for keeping facilities clean and healthy.
Below are 5 tips for keeping you and your facility clean, safe, and flu-free this season:
1. Hand Washing: Although seemingly obvious, regular hand washing is vital to maintaining both a healthy work environment and personal health. When we rub our eyes or eat a piece of food before cleaning our hands, we are putting germs directly into our bodies. Therefore, it's important to reinforce good hand washing practice through training and regular reminders. We've created this easy to follow guide for you to print and post at your site so you, too, can develop a culture of healthy hand washing. A quick reminder about the most effective way to wash your hands: first, wet your hands with running water—either hot or cold. Apply soap and lather, and make sure you wash your hands for at least 20 seconds. Finally, dry your hands and try to turn off the faucet and open the door with a paper towel. This is an easy yet effective technique to keep your employees from spreading germs.
2. Clean Your Cell Phone: We use our cell phones constantly. But did you know that they're 10 times dirtier than a toilet seat? To stop the spread of germs, regularly disinfect and clean your phone with a screen-safe cloth.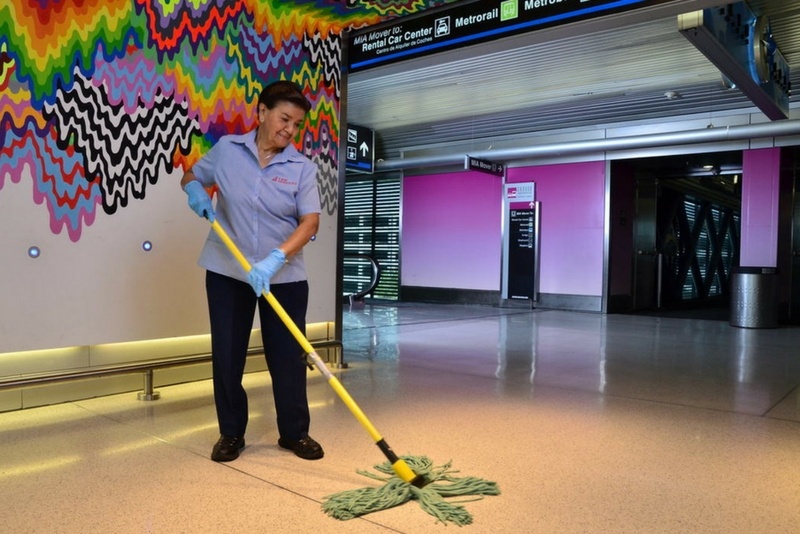 3. Workplace Touchpoint Program: All workplaces contain objects that are frequently touched by a large number of people—light switches, door push bars, hand railings, telephones, elevator buttons, kitchen fixtures, and more. The Centers for Disease Control estimates that adults touch their own faces an average of 18.5 times per hour, presenting hundreds of opportunities each day for people to transfer illness-causing germs into their bodies. Fortunately, knowing what surfaces pose the greatest risk for disease transmission enables us to implement effective cleaning practices. Dwell time—the number of minutes a cleaning product must be in contact with the surface and remain wet to ensure maximum cleaning effectiveness—varies from one to ten minutes. Given this, we recommend using Oxivir TB wipes, which require keeping a surface wet for 60 seconds while cleaning. This is a change from the typical spray-and-wipe-style cleaning we often see.
4. Create a Desk Kit: Creating small desk kits that employees can keep at their workstations or take around with them is a popular and easy way to fight germs at any time. These kits should include a box of Kleenex and hand sanitizer products. Providing employees with their own kits decreases the amount of potential germs people can pick up from a shared Kleenex box or hand sanitizer bottle.
5. Washing Work Gloves: If you work in a facility or have a role that requires work gloves, it's important to wash them regularly. Washing work gloves or any other cloth material you use frequently prevents germs from locking into the material fibers and spreading. Make it a habit to take your work gloves home every weekend to wash them.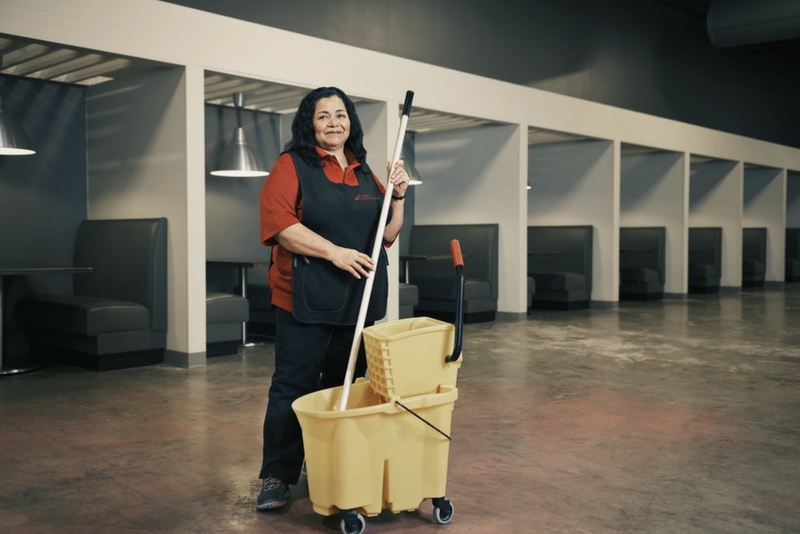 Strong cleaning programs are the key to preventing the spread of illness any time of the year, but they're especially important during winter.
Here at C&W Services, we work tirelessly to make sure our sites are clean and in a good working manner for employees. Keeping both our workers and the people who use our facilities safe, productive, and healthy is our top priority.