Providing the best print services near you.
Bernard expanded C&W Services' print capabilities to a full-service print shop that can produce dozens of high-quality prints a week.
Bernard oversaw the implementation of new training practices for the print team.
C&W Services can now handle large printing projects in a matter of hours.
Bernard first joined Cushman & Wakefield 16 years ago before transitioning to C&W Services in 2016. In his time with the company, he has helped expand our print capabilities to the point where we're handling up to 40 high-quality print jobs a week.
"We're a full-service print shop now," he says. "We can turn around posters in a matter of hours as opposed to days. It's really helped our clients."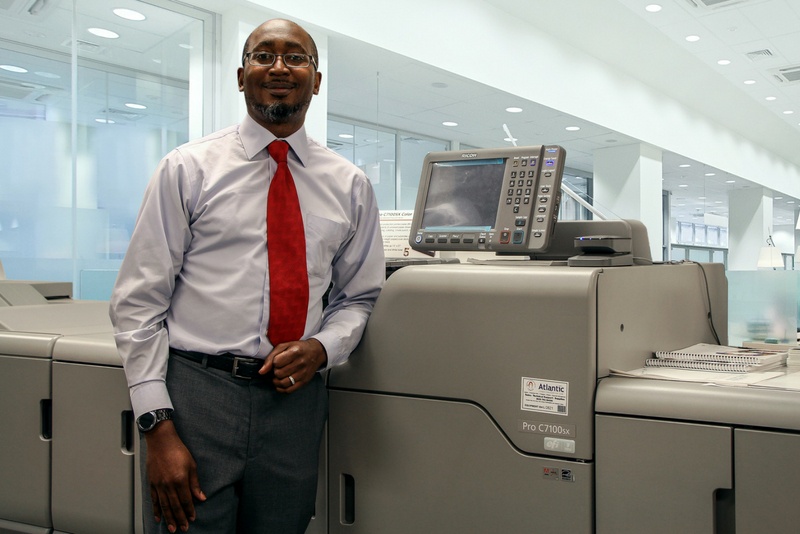 A history of delivering excellent print services.
Bernard started his career at Kinkos, working as an assistant manager and production manager. "I was at Kinkos for eight years," he says. "I first started working with Cushman & Wakefield when they contracted Kinkos to do some work for them. I worked on that project for about a year before the head of the Cushman & Wakefield marketing department reached out and brought me over."
Bernard was initially tasked with bringing the company's print operations in-house, as most projects were being outsourced. "The company wanted to make more prints at a higher quality in less time," he says. "So we had to get new equipment, implement better staff training and all new processes. It was a big undertaking, but the results have been great."
Raising the bar for print services.
When it comes to his current role as print services manager, Bernard is always thinking about how he can make things easier for clients. "We try to make sure that we're always prepared for last minute projects," he says. "It's important that we can meet those quick demands and consistently deliver a high-level of quality."
To accomplish this, Bernard and his team frequently upgrade their equipment and systems. Additionally, they make a point of prioritizing clear, honest communication throughout the printing process. "It's important that both the client and the printing team have an understanding of the expectations for a printing job," he says. "The client will tell us what they need done, and then we—ll let them know what is possible in the given time frame. And we're always ready to go above and beyond. We always want to be exceeding expectations."
Who takes care of your facility?
Bernard is one of many stories we have from the field that demonstrate how our team's culture is the backbone of our service delivery success. We pride ourselves on delivering a broad portfolio of services, developing and empowering our people, and defining a new status quo.
Get inspired and read more stories about employees just like Bernard.
Let's connect about how our highly engaged team can help you.