Meet Bill.
On Aug. 23, 2011, a 5.8-magnitude earthquake hit Virginia, affecting the Washington, D.C., metro area. It is tied with a 1944 New York-Ontario earthquake and 2016 Oklahoma quake as the biggest to have taken place east of the Rocky Mountains since 1897.
The quake affected the headquarters of a major media outlet, where C&W Services provides operations and maintenance and janitorial services.
"My first thought was there'd been an explosion or we'd lost a big piece of equipment," says Bill, account manager at the site. "Earthquakes are rare on the East Coast, so we were all mystified by what had happened. It was pretty scary for all of us at the time."
As with all issues at the site, Bill's team got to work, leading a structural inspection to make sure there was no damage.
It's no earthquake but ?
Such an event is a rarity for Bill and his team, but they have had to deal with other challenges.
Recently, they had to replace atrium lighting with LED bulbs in a section of the building, which is used 24 hours a day. Even more difficult? The lights are suspended 35 feet in the air above difficult-to-move furniture. But in working together, they discovered a way to retrofit the lamps in a nonintrusive manner with minimal occupant distribution. Luckily, the bulbs last five years, so they won't have to repeat the exercise anytime soon.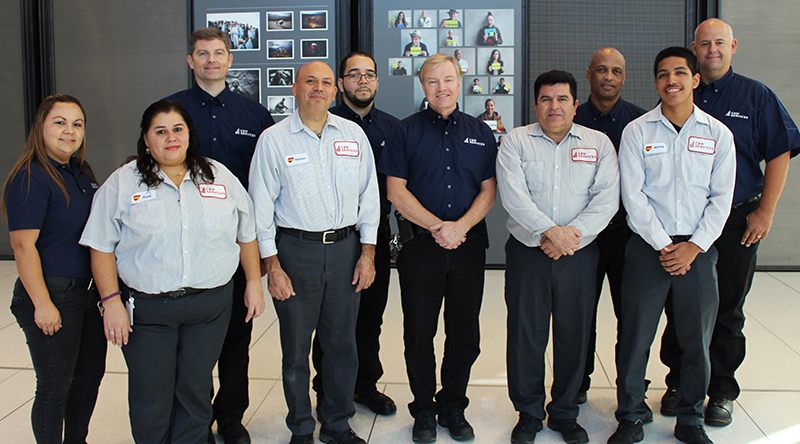 A bond that can't be broken.
Bill has 30 years in commercial building management services—including nine with a U.S. government radio news source that provides programming outside of the country. For him, in the six years that he has been with C&W Services at the same client site, he has developed the best relationship throughout his professional career.
"The client's management team provides us with a level of cooperation that allows us to deliver an industry-leading level of service," he says. "There is no doubt in my mind that the trust, autonomy and high level of collaboration we enjoy with the client is the key to our success."
But that relationship isn't the only reason for success. Bill also credits his hardworking, dedicated team.
"I have a great staff, and I work hard to make sure people are put in positions at which they will excel," he says. "After all, you are only as strong as your weakest link."
Who takes care of your facilities?
Bill is one of many stories we have from the field that demonstrate how our team's culture is the backbone of our service delivery success.
Get inspired and read more stories about employees just like Bill.
Let's connect about how our highly engaged team can help you.