Meet Brandy.
On a typical day, the team at a client university site in New York will complete about 10 to 15 work orders.
But that wasn't enough for Brandy, an administrative assistant at the school. Instead of 15 orders, she walked into work, and on a single day, completed 150.
"It took a lot of coffee, a lot of focus and quiet time," she says. "Nobody else was here, so I just powered through them."
No less, Brandy came in on an extra day that she wasn't scheduled to work—true dedication.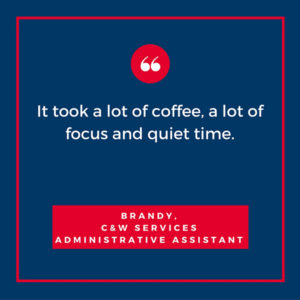 "I like to fix problems. We were behind a lot and it didn't feel right," she says. "I fixed it because it made me feel better. I don't want to be behind; I don't ever want to do a bad job."
A team player.
But this dedication to fix something wasn't her only reason, she also was inspired by her desire to help her team.
"One [reason] was it would fix something," she says. "The other is that would just benefit our team as a whole."
At the university site, the C&W Services team, gets about 3,000 work orders a year. Some are small such as vacuuming a floor, while others are larger, more complicated requests.
Like a pro, Brandy mentions that, for her, the accomplishment didn't seem like that big of a deal.
"When I was done, I felt like a big relief, but doing it time went by really fast," she says. "Once I focus on something, I kind of plow through it and hit my stride. I didn't think about anything else and just kept going."
Human connection.
Brandy, who is attending the University of Buffalo to get her graduate degree, moved here from California two years ago. She found her current position through a friend who had seen a posting on Facebook. She got the job within the week—and C&W Services is better for it.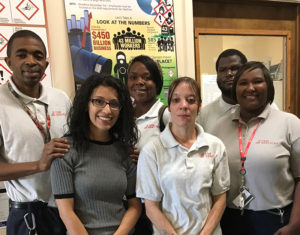 For Brandy, the best part of her job and C&W Services is the way in which she can connect with others.
"We're all communicative and connected," she says. "C&W Services offers a lot of information and opportunities to connect with other people and other employees."
Who takes care of your facilities?
Brandy is one of many stories we have from the field that demonstrate how our team's culture is the backbone of our service delivery success.
Get inspired and read more stories about employees just like Brandy.
Let's connect about how our highly engaged team can help you.