Walter, an HVAC apprentice at an office building in Boston, is launching a successful facilities career.
A few years ago, Walter decided he needed a change. He was working long, tough hours as a kitchen manager, rarely seeing his family, and the stress was getting to him. So when one of the C&W Services engineers that worked in the same building as Walter mentioned that HVAC was a good trade, he jumped at the opportunity. He enrolled in night school and then became a member of the C&W Services Apprenticeship Program a short while later.
Now, a year into the program, Walter works at an office building in the suburbs of Boston while also attending technical school on the weekends. "It's an ideal learning situation," he says. "I go to class, learn something new, and then am able to go to work and practice what I learned in a real-world setting."
Walter's also found great mentors at the site, who both help him learn and serve as models for his own career. "It's scary starting out as the new guy. You feel the pressure because you don't know a lot, but working with this team has brought me so much joy. They're great teachers. They really guide me and let me grow as an engineer. I'm still learning, but they've shown me it's possible to succeed in this field from the ground-up."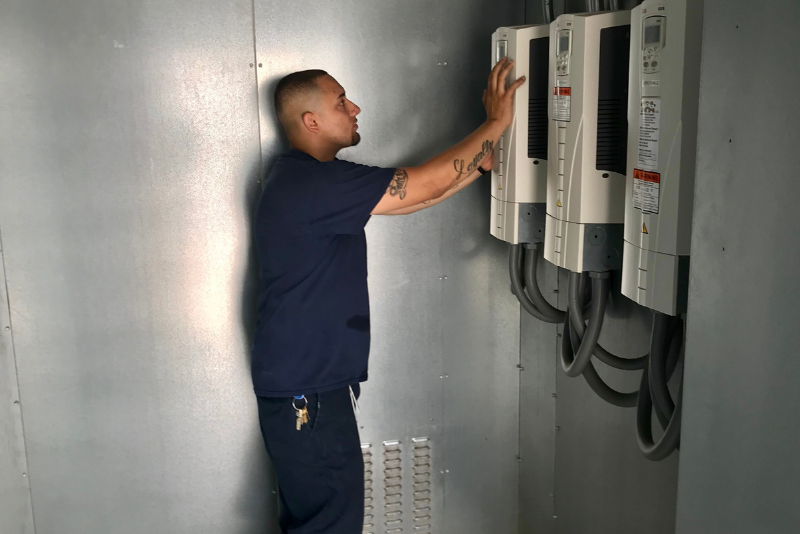 The apprenticeship program does have its challenges. Balancing work and school can be tough, but Walter says all the hard work has been more than worth it. "I'm grateful for the apprenticeship program. I get to spend so much more time with my family, and I feel like I've developed a great relationship with everyone at the site. Everyone's treated me with dignity and respect."
Looking ahead, Walter is working toward his HVAC certifications, but he also wants to help others find opportunities in the facilities field. "I've been so fortunate," he says. "So I want to open the door for other people looking to break in. If I can do it, they can, too."
Who takes care of your facility?
This is one of many stories we have from the field that demonstrate how our team's culture is the backbone of our service delivery success. We pride ourselves on delivering a broad portfolio of services, developing and empowering our people, and defining a new status quo.
Get inspired and read more stories about employees just like Walter.
Let's connect about how our highly engaged team can help you.