Mailroom services. They may not sound like the most exciting part of a company's infrastructure, but they're actually a necessity for success.
These services include the obvious such as shipping, interoffice mail and courier services, but also can be things like records management, reception desks, moving help and conference room setup.
Many organizations use in-house resources, decreasing the time that departments such as HR and other employees should be using to focus on other mission-specific projects. Outsourcing relieves companies of the more generic office duties and allows them to allocate their resources on what is unique to the company.
"Most companies don't have anyone overseeing [mailroom services] so they're spending a lot of management and HR resources," says Neal Leon, vice president of operations, C&W Services. "If someone that knows the specific process and procedures runs it for them, it minimizes training and turnover."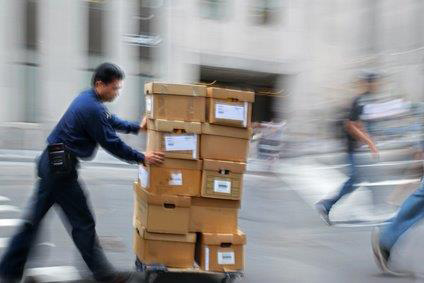 Building a case for outsourcing.
The best cases of when organizations should consider outsourcing their mailroom services is when they don't have anyone within their company dedicated specifically to those tasks and also, depending on the size and scope of the operation, if there are more than five people dedicated to the responsibilities of mailroom services, it will likely become cost beneficial to consider an outside source.
"Typically, there are efficiencies gained by outsourcing," says Neal. "You reset the market when you hire an outsourcing firm, so there's a financial benefit to it."
Many times when you coordinate mailroom services in-house, you—ll have high rates of turnover, because entry-level employees come in and want to see upward mobility within their careers. With an outsourcing firm, you—ll have the familiarity of a dedicated, experienced facilities services company that you don't have to train and can trust will consistently be there.
"When you outsource, mailroom service typically improves because it's more driven on people than process and procedures," says Neal. "When a company is doing it themselves, they don't have anyone investigating or spending time learning. Facilities services companies do."
In other words, these services are core to our business, so we consistently focus on innovating, improving and delivering peak performance in this and all facilities services.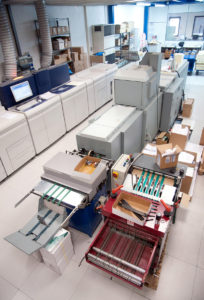 Securing a facilities services firm.
When it comes to making the actual decision of outsourcing, companies should do their due diligence to consider the ROI. They need to study equipment related to mailroom services, the actual number of people needed to do the job and the general salary range of positions within those services.
Conducting market surveys and benchmarking can also help organizations get all of the information they need to secure the types of mailroom services important to them. Speaking with equipment manufacturers to understand pricing models will allow them to realize that outsourcing is more beneficial—facilities services firms can get a better price on equipment because they will have ties to national accounts that allow for much better pricing.
"With outsourcing, companies can get the best in class or best practices within the organization," says Neal. "It drives service levels up. Those are really the major things that appeal to companies."
Looking for help?
If you're considering making the switch to outsourcing, C&W Services can partner with you to provide strategic information to make an informed decision. Our employees consistently deliver a high-standard of service that you can rely on. Along with the abovementioned mailroom services, we specialize in overnight mail, audiovisual services, centralized copy and print centers, walkup multifunctional devices and freight shipping. And, best of all, there is no hidden agenda, as C&W Services does not manufacture any office-related products. We focus on facilities services and not equipment manufacturing, so we can give each customer the best solution for their unique needs. Contact us to speak to one of our expert team members today.