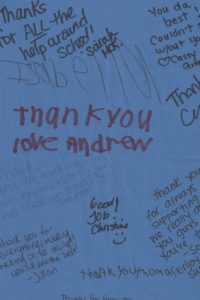 Meet Chris
Some people come to work, day in and day out, accomplish their tasks and go home.
Chris isn't one of those people.
Chris, a facilities manager at a school in a Boston suburb, takes his job seriously and cares deeply for the students who attend the school.
Making a Difference
One student has a tendency to turn lights on and off throughout the day whenever he is stressed, disrupting the class. When Chris learned this, instead of passing it off, he created an open box with a lightbulb inside that the boy can use to lessen his anxiety. The box is plugged into the wall, and the boy can turn the light on and off, calming him down and avoiding any disruption.
That same student has overheating issues whenever the room gets warm. To fix this, Chris installed an AC unit for him, ensuring his comfort throughout the day.
Both the boy and his entire class are incredibly grateful. The students wrote Chris a thank you-note expressing their gratitude with messages of support and gratefulness—it's clear that Chris positively impacts students and the school each and every day.
Inspiring Students
But that's not all. As a sign of the value and importance Chris sees in the facilities services industry, he selects one student a semester and invites him or her into his department through an unpaid internship program. That student then receives the knowledge and skills he or she needs to procure a position in any field once he or she graduates.
Chris" work is just one example of our employees that go above and beyond in their responsibilities to show they care.
Paul Bedborough, chief executive for C&W Services, thanked Chris for his generosity and commitment to his role.
"I want to thank you personally for this," he said. "What a great example of giving that will have a long-lasting impact on these people and their lives. Thanks to you and your team involved."
Who takes care of your facilities?
Chris is one of many stories we have from the field that demonstrate how our team's culture is the backbone of our service delivery success.
Get inspired and read more stories about employees just like Chris.
Let's connect about how our highly engaged team can help you.