Meet Colby.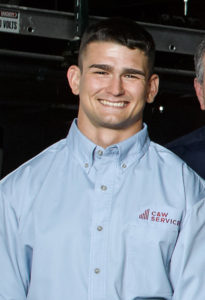 First days at a new position usually follow the same routine: Meet with HR, take a tour of the office, connect with your coworkers and learn more about your new role.
Colby's first day was anything but normal.
Upon his arrival, Colby, an HVAC service technician, learned that two 1,350-ton chillers in the Boston office tower he works at suffered simultaneous mechanical and control failures.
"It was pretty hectic," he says. "It's definitely something I didn't expect."
Hectic is an understatement.
Colby immediately got to work, jumping in even though he didn't have a uniform. He started running hoses (draining water from the chillers) in his street clothes not knowing a single person—working with people who he has not seen since that day.
"Fortunately, I was not completely green," he says. "I was new to the building, but I had seen similar equipment. It was a good way to kick off my first day."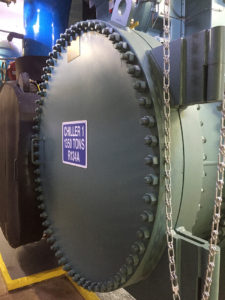 Communication and compassion are key.
His tendency to jump right in demonstrates his team-player attitude.
"I'm the young guy on the team, so I try to do all of the dirty work," he says. "But those guys have just been doing this their whole lives."
His current role, which he started only two months ago, is a drastic shift from his old position. Whereas he used to travel from site to site, he now gets to work at the same location every day and communicate face-to-face with his managers and his team.
"It's great to be at one place instead of bouncing around from building to building," he says. "It's nice to see my team every day. It definitely makes things easier and better."
Ready for anything.
Since that memorable day in July, things have calmed down for Colby, but now he's even more prepared for any emergency that comes his way.
"That has been my biggest encounter here," he says. "If it happened tomorrow, I'd be ready to stick around and help out as long as it takes."
Who takes care of your facilities?
Colby is one of many stories we have from the field that demonstrate how our team's culture is the backbone of our service delivery success.
Get inspired and read more stories about employees just like Colby.
Let's connect about how our highly engaged team can help you.