Meet Colleen.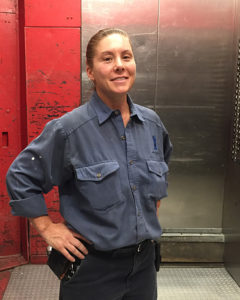 Back in 1994, Colleen was living in the same building as a group of roofers. At the time, she was looking for a job. To help, her neighbors gave her work picking up shingles and stripping roofs.
That was Colleen's first foray into the trades. From there, she went on to work in construction and later transferred to maintenance. That experience eventually brought her to where she is now—serving as a maintenance technician at a Boston-based office building that our C&W Services team oversees, a position she started just 17 months ago.
"I have learned a lot since I started here," she says. "I haven't dealt with anything this size before. This big commercial building was a shock to my system."
A helping hand.
That initial shock has worn off and after a little help from her coworkers, Colleen more than knows her way around.
One such example of a coworker lending a hand is her inexperience in repairing doors when she first started. The large building she works at has a huge variety of doors, and most are the originals that were installed when the building was built.
Many times, she has to fix broken handles or repair old locks. At first she felt overwhelmed due to the small parts that always need to be fixed, but her coworker took her under his wing and gave her pointers on how to fix any and all door-related issues.
Now, Colleen takes a photo of the open lock body for reference so that she knows where each small piece goes. She works at a steady pace to ensure everything is done correctly.
"By taking my time, I am able to replace the broken parts from parts of lock bodies that we have in stock," she says. "Once I reinstall the lock body, check its function and find I have repaired it properly, I always feel great. It feels good to overcome your fears when you come across problems that you are unfamiliar with."
Who takes care of your facilities?
Colleen is one of many stories we have from the field that demonstrate how our team's culture is the backbone of our service delivery success.
Get inspired and read more stories about employees just like Colleen.
Let's connect about how our highly engaged team can help you.