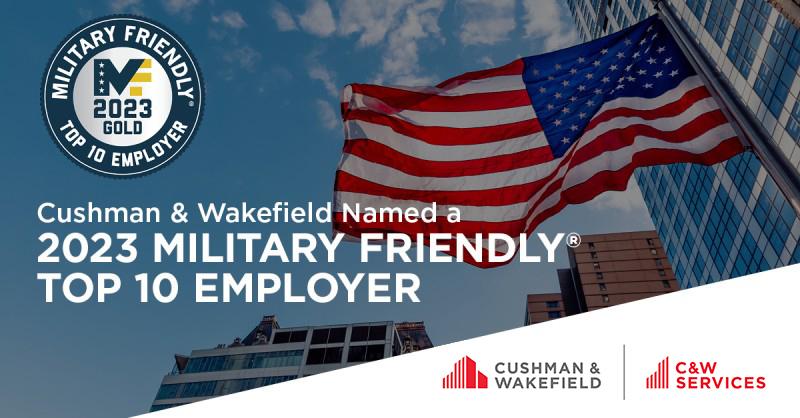 Cushman & Wakefield and C&W Services Named A 2023 Military Friendly® Top 10 Employer
Announced earlier this month, Cushman & Wakefield (inclusive of C&W Services), has ranked sixth in the Top 10 2023 Military Friendly® Employers for its meaningful efforts to recruit, retain and develop veteran talent in the U.S. The firm has now been recognized as a Military Friendly® Employer for five consecutive years.
The firm was also named a Military Friendly® Spouse Employer, recognizing the our commitment to helping military spouse employees have fulfilling careers.
Military Friendly® is the standard that measures an organization's commitment, effort and success in creating sustainable and meaningful benefits for the community of active duty, reserves, guard, veterans and their spouses. Organizations that exceed standards are recognized as part of the Top 10, Gold, Silver or Bronze in categories based on revenue.
We are proud to receive this recognition as we continue to build a company culture that offers veterans and their families a sense of belonging through community and rewarding work outside of the military.