Israel and his team deliver award-winning facilities services in the Boston area.
Our team at a client site in Boston recently received their second 90+90+90 Award from Elliott Affiliates.
Our team at the site works closely with the client to deliver personalized cleaning solutions.
Israel, the account manager at the site, has worked tirelessly to instill a culture of comradery and hard work.
Israel knows what it takes to build an industry-leading facilities services team, as he's held a wide variety of roles within the industry. He joined C&W Services in 1994 as a front-line cleaner and worked his way up to supervisor and then to assistant account manager and then, in 2006, to account manager. He's managed a number of different sites throughout the Boston area and, since 2013, has been overseeing our work for a large client in Boston.
As part of our contract with this client, Elliott Affiliates, a third-party consulting company conducts a monthly performance review of our work. Their most prestigious honor, the 90+90+90 Award, is bestowed upon sites who achieve both a quality score of 90 or above and a customer satisfaction score of 90 or above for a 90-day period.
Our team at Israel's site received their first 90+90+90 Award in 2016, and they recently received their second. This is a amazing accomplishment. According to the consultant from Elliott Affiliates, this is the first time in history he's ever given the award to the same account twice.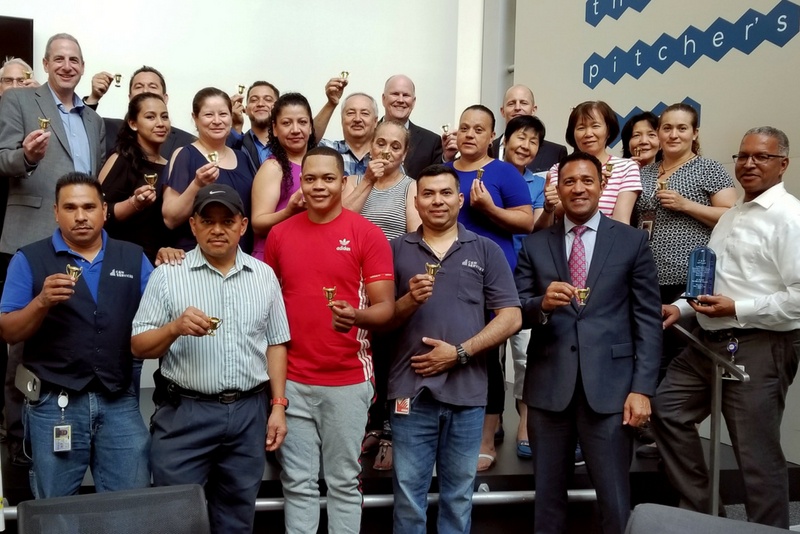 Raising the value of facilities services through teamwork and the implementation of innovative cleaning practices.
When asked about the awards, Israel is quick to bring up his team's hard work. "It was a real team effort to deliver cleaning of this quality," he says. "We all had to work together to learn some new skills, but it's really paid off."
Israel has also made a point of instilling a culture of comradery and teamwork at the site. "I tell everyone here that if they ever have the smallest problem or need a little bit of help that they should call me. I love working alongside my team. I'm here for them. Sometimes, I even rearrange my schedule so I can work alongside the night crew for a while. I want to make sure that no one here is ever nervous to call me. We all have to be willing to help each other."
Alongside his team, Israel credits his close relationship with the client for the success he's had at the site. "The client is really a partner in everything we do," he says. "They—ll tour the building with us, they—ll let us know exactly what they want, and we can have an honest conversation about the best ways to achieve those goals. It's a daily collaboration."
Who takes care of your facility?
Israel is one of many stories we have from the field that demonstrate how our team's culture is the backbone of our service delivery success. We pride ourselves on delivering a broad portfolio of services, developing and empowering our people, and defining a new status quo.
Get inspired and read more stories about employees just like Israel.
Let's connect about how our highly engaged team can help you.