Congrats to the teams and clients who were recognized for their efforts
Last night, two properties teams and three clients supported by C&W Services were recognized by Building Owners & Managers Association of Boston, an organization for real estate professionals in the Greater Boston area.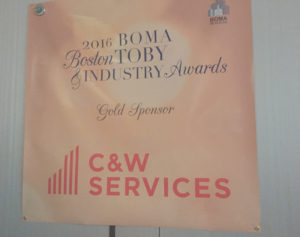 We are proud to support the teams and clients that were recognized for their hard work and dedication to the industry, and appreciate the "shoutouts" from several of our clients at last night's ceremony. Our on-site teams strive to provide exemplary work every day, and this recognition underscores their commitment to keeping our clients" facilities safe, efficient, and productive.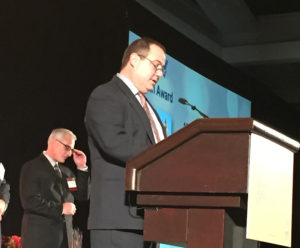 C&W Services is proud of the role we play in providing janitorial and/or maintenance services to several of last night's winners:
500,000—1 Million Square Feet Award: 10 St. James Ave., owned by Liberty Mutual and managed by CBRE/New England.
Earth Award: 100 Federal St., owned and managed by Boston Properties.
2016 Executive of the Year: Greg Brown, Vice President of Property Management of Hines.
2016 Executive Engineer of the Year: Michael Fitzgerald, Director of Engineering, Boston Properties.
2016 Low-Rise Property Manager of the Year: Maureen Ayers, CBRE/New England, Property Manager for 88 Black Falcon Ave.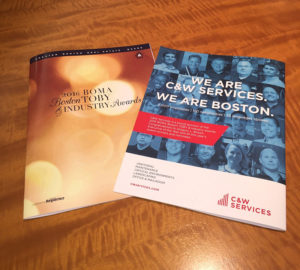 These nationally recognized awards, which were handed out in Boston on Nov. 15, fall under 16 categories for Outstanding Building of the Year and nine categories under Industry Awards. C&W Services was a gold sponsor for the event.
Local winners move on to a regional competition and finally an international competition put on by Building Owners and Managers Association International.
Congratulations to all who were recognized!