Setting the new standard for airport services.
Frank, the account manager at Sea-Tac International Airport, acknowledges that running an account of this size takes an incredible amount of coordination, efficiency, and teamwork. "That's the biggest difference between Sea-Tac and the other environmental services roles I've held," he says. "Airports are 24/7. Travel is always happening, and at lightning speed."
Frank is more than prepared to manage such a large, demanding account, though. He has more than 10 years of experience in the field, dating back to his service in the Army. "I joined the Army at the age of 18," he says. "I was active duty for six years and was a reserve for another six."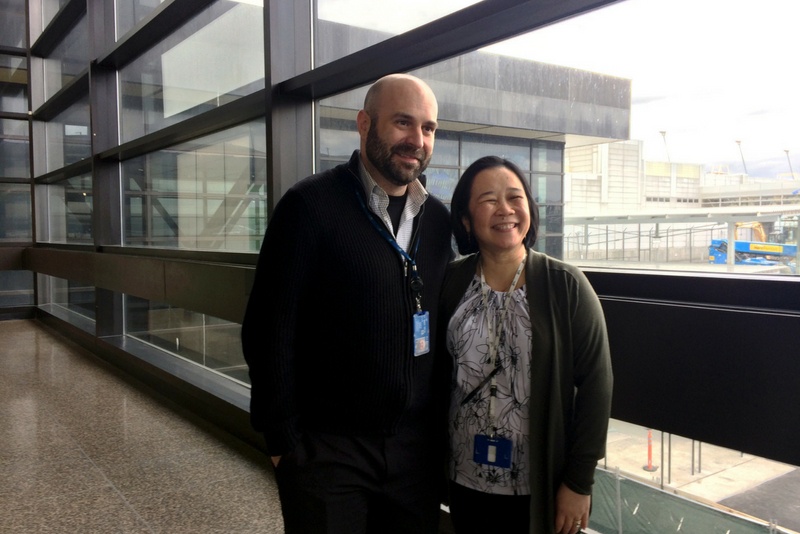 Driving facilities success through the implementation of industry-leading systems.
While in the Army, Frank worked in petroleum and hazardous materials, and he continued working in this field after leaving the armed services. "I moved to Seattle and worked for a waste disposal company," he says. "I rose through the ranks, worked on different projects, and ended up working for one of the major hospitals in the Seattle area as a Hazardous Materials Officer. In that role, I designed waste disposal systems."
The state of Washington has some of the most comprehensive dangerous waste regulations in the country, so Frank always has to be up-to-date on industry-leading best practices and aware of how to incorporate these practices into staff training.
"That's when my experience in the Army became really useful," he says. "The Army is great at simplifying processes and implementing extensive training programs. They teach through repetition, muscle memory. We do the same here at Sea-Tac. We want to design systems that are easy to follow so that all of our employees are put in a good position to succeed."
Improving facilities services with a team-first attitude.
Alongside the implementation of great training and best practices, Frank believes that listening to his team is key to success at the site. "I know janitorial. But you know who knows janitorial better than me? The team on the floor. They're the ones doing this day in and day out, so whenever I'm out on the floor, I try to talk to as many team members as possible."
Frank tries to incorporate his staff's feedback into all front-line discussions. "We're constantly thinking about how we can do better," he says. "So I check-in with my staff. How are your tools? Is there anything we can do to make them better? How is safety going? This kind of dialogue is key to our policy moving forward."
And although Frank and his team have been at Sea-Tac for just over nine months, they are already seeing some amazing results.
"Recently, I came upon one of our employees who looked a little frazzled, so I asked her what was going on, he says. "It turned out she was trying to help a passenger who had just lost a bag in the bathroom. The bag contained a lot of money, as the passenger was traveling home after selling a property in the area. To make matters worse, the passenger's flight was taking off in less than 90 minutes. Upon hearing all of this, I, senior director Chris Johnson, and the entire C&W Services team sprang into action. We had a team start going through the security footage, while another rushed over to lost and found to search for the bag. A few minutes later, I received a call from one of my supervisors, who had the bag in lost and found, but the passenger needed to sign for it. So, with only a little time left before the passenger's flight, we got them over to lost and found, back through security, and then to their gate in time. Solving this problem really felt like we had saved the day, and it was a true team effort."
This is just the beginning of the great work that C&W Services is doing at Sea-Tac International Airport. Read about the fleet of autonomous floor scrubbers that we have implemented at the site, and learn more about how Frank's experience in waste disposal has helped him develop a truly hard-working, collaborative culture at the airport.
Who takes care of your facility?
Frank is one of many stories we have from the field that demonstrate how our team's culture is the background of our service delivery success. We pride ourselves on delivering a broad portfolio of services, developing and empowering our people, and defining a new status quo.
Get inspired and read more stories about employees just like Frank.
Let's connect about how our highly engaged team can help you.