Excellence delivered by an experienced team.
—We can't make mistakes. The animals at the zoo rely on these systems to survive."
In a few short words, Central Region Operations Manager Albin Trojaniak sums up the fundamental responsibility of maintaining the mechanical systems behind the scenes at Lincoln Park Zoo in Chicago.
Founded in 1868, the Lincoln Park Zoo is one of the nation's oldest zoos. It is open 365 days a year, and is also the only privately-managed free admission zoo in the country. Its vision: inspire communities to create environments where wildlife will thrive in our urbanizing world.
At 10 members, the C&W Services zoo team contracted by Lincoln Park Zoo is relatively small, yet it covers maintenance across 35 acres and structures housing more than 200 species. Under the leadership of Chief Engineer John Earley, the team has extensively cross-trained, so that every team member can pitch-in wherever needed, regardless of their specialty. In addition, well-defined processes help the team operate at maximum efficiency.
For example, the zoo has 13 large pools (and several other water sources) that support animals and birds such as polar bears, seals, and penguins. Every day, the large pools need to be backwashed, which cleans the filters and help maintains the pools. Mechanical room pipes and valves are color-coded so that every team member can perform the daily task efficiently. The team also assists zoo curators with daily basic water chemistry tests.
Some aspects of working in a zoo are particular to its inhabitants, like ensuring water chemistry is ideal for the animals and birds. But many of the tasks that John and his team face are common to any facility—managing infrastructure as it ages; balancing cost savings with system performance; and keeping safety a priority. Many of C&W Services' team at the zoo started their careers in more typical facilities, like office buildings. But with an average tenure of 13 years, it's clear that once a team member joins the zoo team, they're there to stay.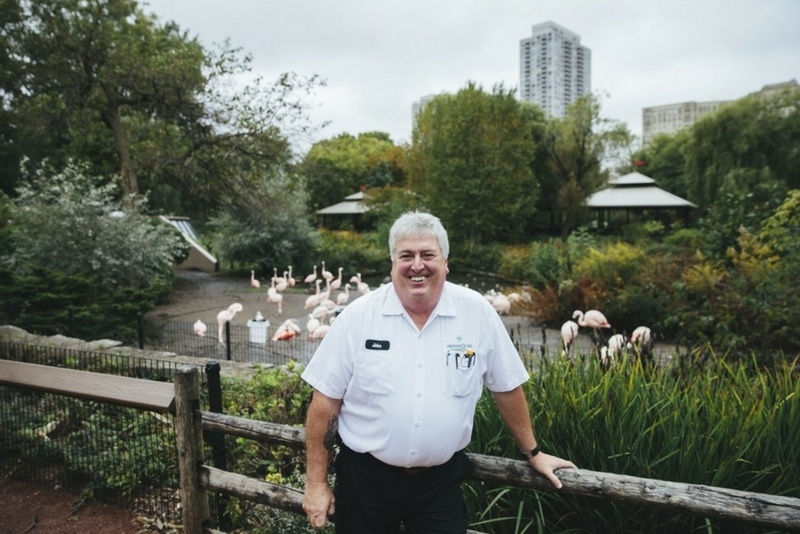 What's the best part of working in a zoo?
Even after 23 years at the zoo, Dave still loves to see small children in awe of the animals, and older children learning about nature, animals, and conservation. He loves to bring his own family to the zoo, and see his workplace through their eyes.
For John, the zoo is a nice change from working in an office building. While the work and skills required are very similar, John notes that people coming to the zoo are excited to be there—something that isn't always as apparent with office workers!
For Matt, being "supervised" by Rico is a special pleasure. Rico is a 3,000-pound adult male rhinoceros. When Matt works near Rico's habitat, Rico gets as close as possible to keep an eye on what Matt is doing. "When I'm in his area, Rico is my supervisor," Matt says.
While all of the team can care for the 22,000-pound Kugel fountain, Joe makes it his responsibility to turn the fountain off. The fountain consists of a massive granite globe that hovers over a pedestal, suspended by a thin film of water. The water flows at about 25 pounds of pressure, and yet it holds up a granite globe that weighs as much as five full-grown Rhinos. When the fountain is on, even a child can safely and easily spin the globe to see etchings of animals and the continents they inhabit. However, the globe must be perfectly still when the water is turned off for the night — rotation would cause scratching as the globe settles onto its pedestal.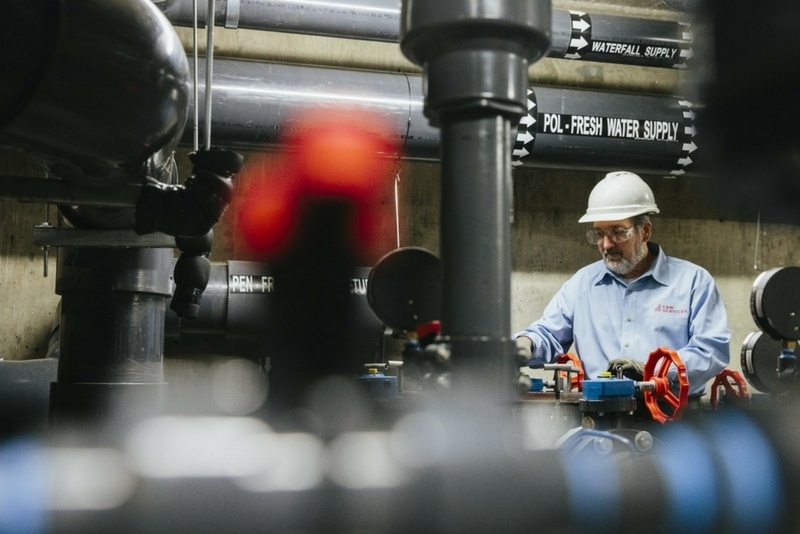 Who takes care of your facilities?
The care and affinity the Lincoln Park Zoo facilities team feels for all of the zoo's animals, staff, and visitors is typical of a C&W Service team for its clients and their sites.
Get inspired and read more stories about employees who demonstrate how our culture is the backbone of our service delivery success.
Let's connect about how our highly engaged team can help you.