Meet Ed.
Ed joined the trades industry as a young adult, working at a Boston office tower. Thirty-four years later, he still works at that same building, now under C&W Services.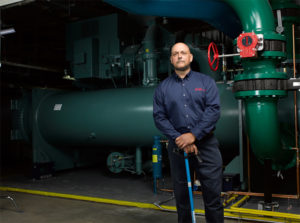 Talk about commitment.
"Times are good at this building," he says. "It's iconic in Boston, and I've met a lot of great people over the years."
Now a senior electrician, Ed started out in the print shop, then dabbled in carpentry and finally transferred to electrical as an apprentice 19 years ago.
"Every day is different," he says. "There is no typical day. It's a big facility. Everything can happen and everything has happened throughout the years."
Giving back.
Ed, a motorcycle aficionado, bought his first Harley four years ago. Around that same time, he joined a local American Legion, which puts together all kinds of fundraisers, including a benefit motorcycle ride. In mid-September, the legion organization hosted their first sponsored motorcycle ride that raised $3,000.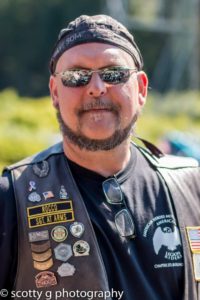 As a member, Ed also takes part in other fundraisers such as yard sales and chili cook-offs. All of the money goes to veteran-focused organizations across the country and to the American Legion scholarship program, which provides children whose parents were killed in action with money to hopefully send them to school.
"I wanted an organization I could give back to and something that was affiliated with motorcycle riding," he says. "I like to give back."
Who takes care of your facilities?
Ed is one of many stories we have from the field that demonstrate how our team's culture is the backbone of our service delivery success.
Get inspired and read more stories about employees just like Ed.
Let's connect about how our highly engaged team can help you.