The latest energy market news.
Cushman & Wakefield and Premier Energy Auctions have released their Market Energy Update for February 2018. This newsletter provides an overview of the economic, geopolitical, and meteorological factors affecting the energy market.
Relentless cold results in corresponding upward market movement.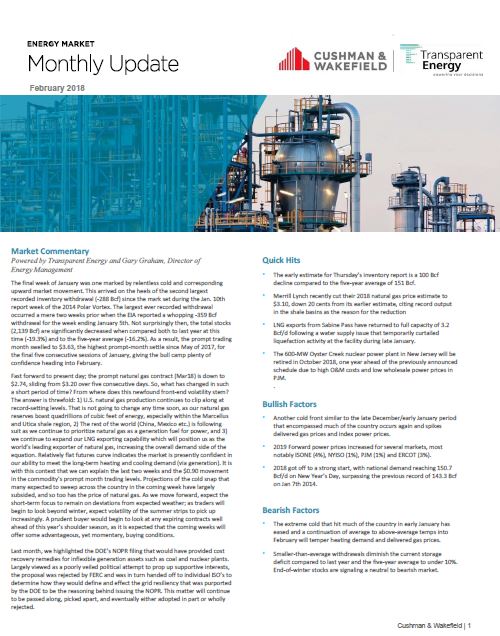 The final week of January saw some extremely cold weather in a number of areas across the country, resulting in upward market movement. This development arrived on the heels of the second largest recorded inventory withdrawal (-288 Bcf) since the mark set during the January 10th report week of the 2014 Polar Vortex. Not surprising then, the total stocks (2,139 BcF) are significantly decreased when compared to both last year at this time (-19.3%) and to the five-year average (16.2%) As a result, the prompt trading month swelled to $3.63, the highest prompt-month settle since May of 2017.
Fast forward to early February 2018: the prompt natural gas contract (Mar18) is down to $2.74, sliding down from $3.20 over five consecutive days. So what changed in such a short period of time? 1) U.S. natural gas production continues to clip along at record-setting levels. This is not going to change anytime soon, as our natural gas reserves boast quadrillions of cubic feet of energy. 2) The rest of the world is following suit as we continue to prioritize natural gas as a generation fuel for power. 3) We continue to expand our LNG exporting capability, which will position us as the world's leading exporter of natural gas, increasing the overall demand side of the equation.
Other energy market headlines.
2018 got off to a strong start with national demand reaching 150.7 Bcf/d on New Year's Day, surpassing the previous record of 143.3 Bcf on Jan 7th 2014.
The extreme cold that hit much of the country in early January has eased and a continuation of average to above-average temperatures into February will temper heating demand and delivered gas prices.
Largely viewed as a poorly veiled political attempt to prop up supportive interests, the DOE's NOPR was rejected by FERC and was in turn handed off to individual ISOs to determine how they would define and affect the grid resiliency that was purported by the DOE to be the reasoning behind issuing the NOPR. The matter will continue to be passed along, picked apart, and eventually either adopted in part or wholly rejected.
To learn more about these developments and to get the latest electricity price trends, natural gas data highlights, and temperature probabilities, read the full energy update.
If you have any questions, Gary Graham, our director of energy management, can take you through the report.