People in the facilities management industry come to us from all over. Trade schools, accredited universities, referrals and more. But many come from the military.
To celebrate World FM Day, we dive into what interested Navy members in facility management and our subset of work, facilities services. In this post, Kelly, a utility operator lead at a biotechnology company in California, and Richard, the senior operating manager at the same company, discuss their experience in transitioning from the Navy to FM.
A logical conclusion.
In 2009, when the United States was still feeling the effects of the Great Recession, Kelly looked into joining the military. Because his dad spent 27 years in the Navy, he decided to apply. After taking a standardized test for placement, Kelly was essentially given the pick of the litter after receiving incredibly high scores. The Navy encouraged him to go into nuclear power school for a challenge, and he was immediately hooked. After a year and a half of schooling, he was stationed in Hawaii as a water chemist and mechanic on a nuclear power submarine.
He eventually made his way to San Diego after his tour was done, planning to take a month or two off, but all of that free time eventually became boring. He sent out resumes, looking for positions that aligned with his experience. C&W Services was just one company that responded right away, so he went for it.
"When I was originally looking for a job, the description seemed somewhat close to what I was doing," he says. "It dealt with nuclear engineering, maintenance and logging; it was a close match."
Now, a little more than a year later, Kelly spends his time connecting with the client to ensure everything is on track and runs smoothly, taking charge of work orders and paperwork.
Kelly notes that starting out in the facilities management industry wasn't too difficult, and there was nothing he had to relearn aside from acquainting himself with pharmaceutical terms to understand the client's needs.
"The military jargon as opposed to the civilian side was a hurdle to get over," he says. "I had to do a lot of Googling and search for the equivalent to describe what I was doing and capable of doing."
One example he shares is that in the Navy, he was the lead engineering lab technician, which doesn't translate to the engineering industry outside of the military. He couldn't put that on his resume as it wouldn't make much sense. Instead, he highlighted the fact that the position was a supervisor role, preparing him for a managerial role on the civilian engineering side of things.
Ultimately, coming to facilities management after his time in the Navy was the right choice, especially with an organization that reaches so far across North America.
"It's great being part of such a large company, which is much like the Navy," he says. "You can really go anywhere from here."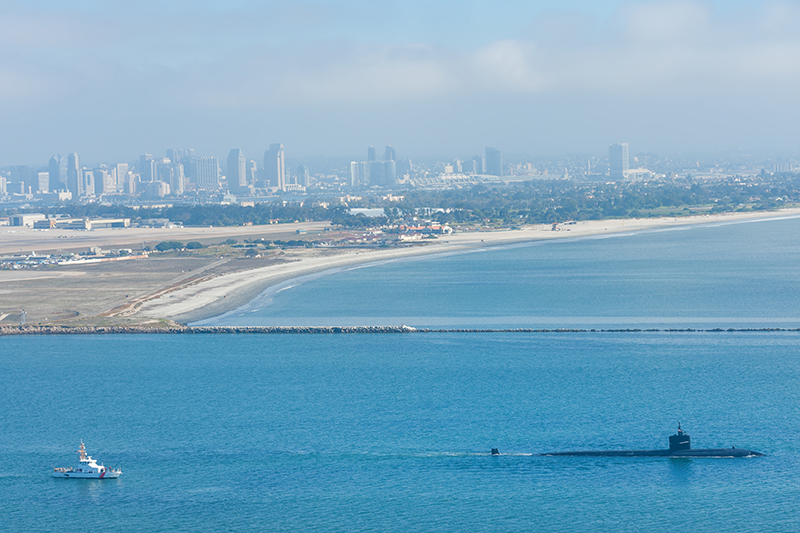 Saving lives.
Just like Kelly, Richard was inspired to join the Navy after hearing his father talk about his own experiences.
"All the stories he told here were pretty fantastic," says Richard. "Submarine life sounded very interesting. It was all submarine or bust."
Also like Kelly, Richard was stationed in Hawaii for nine years working with submarines in nuclear engineering. The longest he was underwater was 64 straight days.
When Richard first left the Navy, he joined the semiconductor industry where he learned about electronics and mechanics, but the lack of consistency and stability bothered him, so he transferred to biopharmaceutical, which is where he has been 16 years. For him, working in the facilities world is similar to the Navy, especially when it comes to processes.
"Everything has a procedure," he says. "It is the exact same thing as when you're trained in the Navy."
Also similar is the way in which biopharmaceutical engineering can, in a way, help prevent death and improve lives.
"Every day you save lives," says Richard. "You keep that plant operating so that they can make medicine and save lives or improve quality of life. That is probably the biggest similarity."
In his role, Richard oversees hard and soft services, makes sure the entire account operation is running smoothly and maintains the labor budget.
"The best thing about this role is that it's not the same thing every day," he says. "You can plan your entire week and 15 minutes later, the entire plan is absolutely obsolete because something else has come up and you have to roll with it."
Entering the facilities services industry seems to be a rather popular option for all types of military service members. The proof? Richard says that in all of the years he's been a hiring manager, he's hired roughly 75 percent veterans.
"I think transitioning from military life to facilities, especially in biopharmaceutical, is a very smooth transition; it's very easy," he says. "It gives you a sense of pride and is a wonderful way to work."
Who takes care of your facilities?
Kelly and Richard's stories are just one of many we have from the field that demonstrate how our team's culture is the backbone of our service delivery success.
Get inspired and read more stories about employees just like Kelly and Richard.
Let's connect about how our highly engaged team can help you.