Recipient of 2016 Trustees' Award.
C&W Services is honored to accept the IFMA Foundation's 2016 Trustees" Award for our contributions to the Foundation's Global Workforce Initiative. Last February, C&W Services became the first charter sponsor of the program, which brings together a coalition of industry-leading firms to work on tangible solutions for the growing gap in all levels of the facilities services workforce.
The award was presented at IFMA's World Workplace conference in San Diego on Oct. 7. Accepting the award for C&W Services was JR Roethke, operations manager at one of our client's corporate headquarters and president of the Madison, Wisc., IFMA chapter. JR is one of the many examples of C&W Services employees who not only provide exceptional service to their clients every day but also contribute to the industry through their participation in IFMA.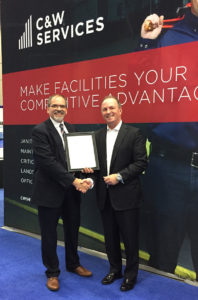 Raising awareness.
C&W Services Chief Executive Paul Bedborough commended the GWI for recognizing the importance of the people—managerial, technical and trade—who keep facilities running smoothly every day. Under Paul's leadership, C&W Services has made a five-year, $250,000 commitment to support the GWI.
"By taking a leadership role in the GWI, C&W Services will help raise the profile of facilities services as an important and rewarding career," Paul says. "This is of huge importance to me, C&W Services and our clients. Facilities staff are behind the scenes keeping the world's workplaces, plants, schools, malls and other public venues operating at peak performance, and their work matters."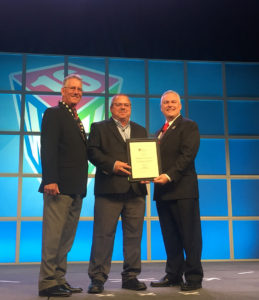 Giving the next generation mentoring and support.
At World Workplace, C&W Services collaborated with the IFMA Foundation on a program to connect university and graduate students with potential employers. More than 100 students attend World Workplace, many funded by IFMA Foundation scholarships. Prior to World Workplace, students were encouraged to polish their LinkedIn profiles and sign up for networking times at the C&W Services booth. IFMA and C&W Services promoted the students" presence before and during the conference through emails and landing pages. Students from around the world participated; links to their profiles can be found here.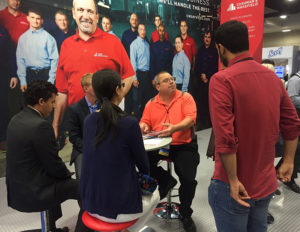 Share your perspective on working in the industry.
The World Workplace scholars reflect an increasing number of degree and certification programs bringing top new talent into the industry. But it wasn't always that way—80 percent of the World Workplace attendees that participated in our survey indicated that they came to their facilities services careers by accident rather than design. Give us your perspective on what it's like to have a career in facilities management and services with this brief survey so that we can continue our research. Once 500 people have responded, C&W Services will donate an additional $5,000 to the IFMA Foundation to keep up the good work outreach to future facility professionals.