Get the latest energy market news and the most accurate, up-to-date prices.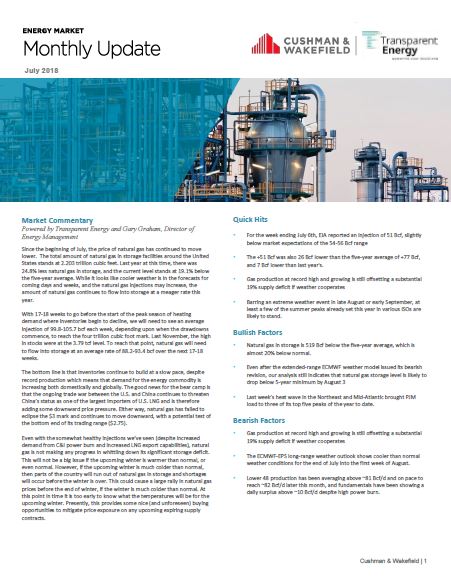 Cushman & Wakefield and Transparent Energy have released their Energy Market Update for July 2018. These monthly reports provide an overview of the economic, geopolitical, and meteorological factors affecting the energy market.
Energy inventories continue to build at a slow pace despite record production.
Since the beginning of July, the price of natural gas has continued to lower. The total amount of natural gas in storage facilities around the United States stands at 2.203 trillion cubic feet. Last year at this time, there was 24.8% less natural gas in storage, and the current level stands at 19.1% below the five-year average. While it looks like cooler weather in the forecasts for the coming days and weeks, potentially causing natural gas injections to increase, natural gas continues to flow into storage at a meager rate this year.
With 17-18 weeks to go before the start of the peak season of heating demand, when inventories begin to decline, we will need to see an average injection of 99.8-105.7 Bcf each week, depending upon when the drawdowns commence, to reach the four trillion cubic foot mark. Last November, the high in stocks were at the 3.79 Tcf level. To reach that point, natural gas will need to flow into storage at an average rate of 88.2-93.4 Bcf over the next 17-18 weeks.
The bottom line is that inventories continue to build at a slow pace, despite the record production which means that demand for the energy commodity is increasing both domestically and globally. The good news for the bear camp is that the ongoing trade war between the U.S. and China continues to threaten China's status as one of the largest importers of U.S. LNG and is, therefore, adding some downward price pressure. Either way, natural gas has failed to eclipse the $3 mark and continues to move downward, with a potential test of the bottom end of its trading price ($2.75).
Additional important energy industry news and trends.
Barring an extreme weather event in late August or early September, at least a few of the summer peaks already set this year in various ISOs are likely to stand.
Natural gas storage is 519 Bcf below the five-year average, which is almost 20% below normal.
Lower 48 production has been averaging above ~81 Bcf/d and is on pace to reach ~82 Bcd/d later this month, and fundamentals have been showing a daily surplus above ~10 Bcf/d despite high power burns.
To learn more about these developments and to get the latest gas prices, electricity price trends, natural gas data highlights, and temperature probabilities read the full energy update.
If you have any questions, Gary Graham, our director of energy management, can take you through the report.