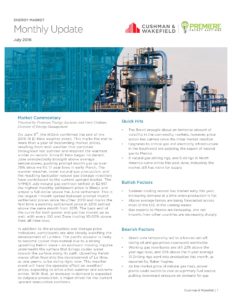 Catch up on July's update.
Cushman & Wakefield and Premier Energy Auctions have released their Monthly Market Energy Update for July, a snapshot of economic, geopolitical and meteorological factors affecting the energy market.
Prices expected to rise.
The July Energy Update sheds light on the end of El Niño, which resulted in more than a year of descending prices after mild weather, including the warmest winter on record. The focus now is on La Niña, which will likely create a cooler pacific equator because of a strong Kelvin wave. This event will have the opposite effect on weather and prices, expecting to drive a hot summer and extreme winter.
The report also touches on Brexit, upgrades to gas and electricity infrastructure that are helping export natural gas to Mexico, and the bullish and bearish market factors. The energy update includes electricity price trends, natural gas data highlights and other crucial information for facility teams.
Gary Graham, director of energy management, can take you through the report and your options.
Read the full July Energy Update for a more thorough description of last month's news.