As a leader in the facilities services industry, we're dedicated to providing our clients with the latest best practices, technology, and materials to ensure exceptional cleaning operations and green cleaning. That's why we're proud to announce that we are both Cleaning Industry Management Standard (CIMS) and CIMS-GB recertified. In fact, we're one of the few facilities management companies operating nationwide that is CIMS certified with honors for 2021 and 2022.
What Is CIMS?
Designed and upheld by The World Wide Cleaning Industry Association (ISSA), CIMS is the first consensus-based management standard that outlines the capabilities and characteristics of a quality facilities management organization. This designation helps companies stand out in the industry, and it communicates to those looking for facilities solutions which companies are prepared to deliver exceptional service.
Additionally, the CIMS-GB designation demonstrates that our cleaning operations are structured to deliver green cleaning services that assist customers in achieving points under the LEED-Existing Buildings: Operations and Maintenance (LEED-EBOM) Green Building Rating System. CIMS-GB certified organizations demonstrate compliance with the core principles of the Standard, which are Quality Systems; Service Delivery; Human Resources; Health, Safety, and Environmental Stewardship; and Management Commitment.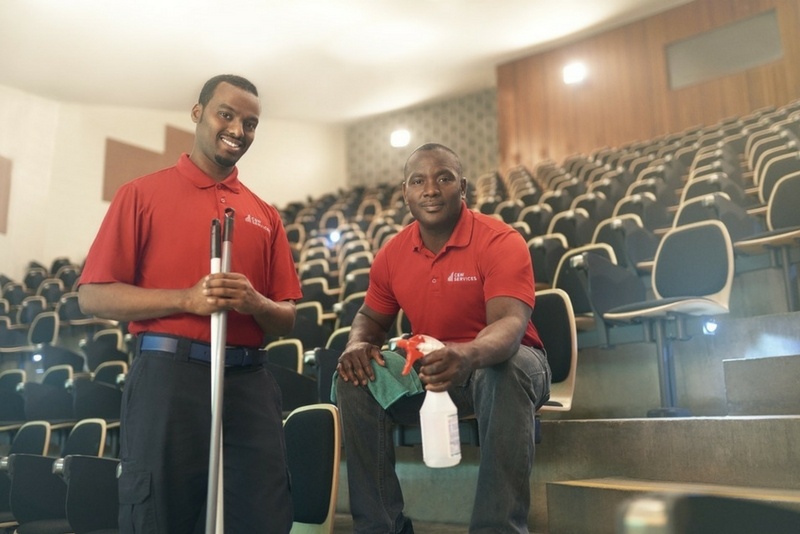 Achieving Certification
Before the pandemic, the CIMS certification process involved an auditor traveling to representative accounts and conducting a thorough inspection of the facility. However, this year was a little different.
The site audits were held virtually, with each representative site needing to create a presentation that detailed their adherence to the CIMS-GB criteria and our contractual commitments. The lone exemption to the virtual audit was one of our higher-education clients in New Jersey. Due to the auditor's proximity to the campus, he requested the traditional site tour audit. With client approval, our local team was able to accommodate this request.
Thank you to all of the site managers that made this year's assessment possible. We couldn't have done it without your hard work and dedication. Special thanks to Kay Cook for managing this process, and to Edgar Ventura, Garron Ashley, Mauricio Velasco, Chris Grot, Keith Williams, Peter Rivera, Cristobal Siquina, Savannah Andrade, Hector Lopez, Fernando Teixeira, Michael Brooks, and John Pierre.
Who Takes Care of Your Facility?

We're so proud to have completed all CIMS-GB requirements for our 2021 & 2022 recertification with honors.
Read more about our cleaning services, and how we're providing customized and creative facility management solutions.
Let's connect about how we can raise the value of facilities services for your company.