The best energy market insights.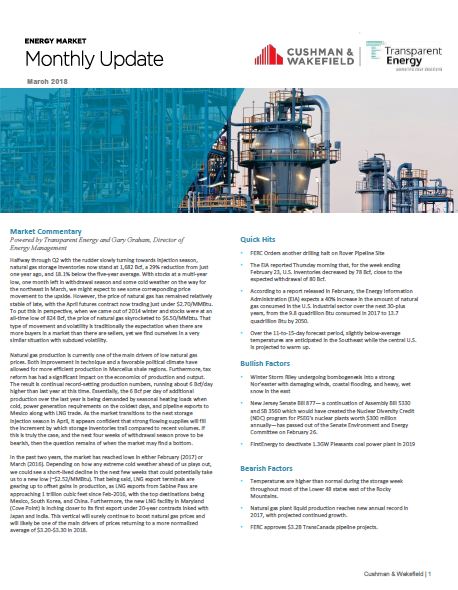 Cushman & Wakefield, in partnership with Premier Energy Auctions, have just released their Market Energy Update for March 2018. This issue provides an overview of the economic, geopolitical, and meteorological factors affecting the energy market.
Record-setting natural gas production.
Natural gas production is one of the main causes of low natural gas prices. Both improvement in technique and a favorable political climate have allowed for more efficient production in the Marcellus Shale regions. The result is continual record-setting production numbers, which are about 6 Bcf/day higher than at this time last year.
Additionally, the past two years, the market has reached lows in either February or March. Depending on how any future cold weather plays out, we could see a short-lived decline in the new few weeks that could potentially take us as low as ~$2.52/MMBtu. But with that said, LNG export terminals are gearing up to offset gains in production, as LNG exports from Sabine Pass are approaching 1 trillion cubic feet.
Additional energy market news.
According to a report released in February, the Energy Information Administration (EIA) expects a 4% increase in the amount of natural gas consumed in the U.S. industrial sector over the 30-plus years, from 9.8 quadrillion Btu consumed in 2017 to 13.7 quadrillion BTU by 2015.
Winter Storm Riley is undergoing bombogenesis into a strong Nor—easter with damaging winds, coastal flooding, and heavy, wet snow in the east.
Temperatures are higher than normal during the storage week throughout most of the Lower 48 states east of the Rocky Mountains.
To learn more about these developments and to get the latest electricity price trends, natural gas data highlights, and temperature probabilities, read the full energy update.
If you have any questions, Gary Graham, our director of energy management, can take you through the report.