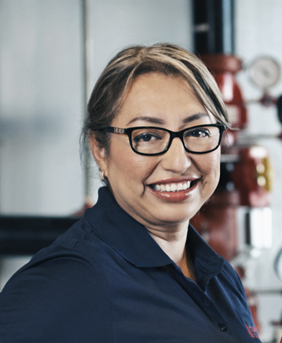 Meet Maria.
Let's face it: Janitorial jobs are tough. It's hard work, often with unusual hours and repetitive tasks that can be mentally and physically exhausting.
Maria started working as a night cleaner with C&W Services for a large client in the financial services sector. She took this job just two years after moving to the U.S. from her native Mexico, and she taught herself English on the job.
Moving on up.
Maria's natural passion for people and understanding of safety on the job slowly started showing through in her interactions with managers; she was eventually promoted to shift supervisor. She felt inspired by the managers on her account and started voraciously reading all the business management books her supervisors passed along to her. The managers started noticing her growth, and the positive cycle continued. Her self-starting attitude and passion for her team continued to stand out to her managers, and she was promoted to night manager. Today, Maria proudly serves as the daytime staff manager with more than 125 employees, four supervisors and one administrator under her leadership.
"I learned to be a manager —[the other managers] taught me a lot," she says.
Maria understands the gravity of her role in managing a healthy, safe, productive work environment, and every ounce of her effort is fully committed to delivering on that promise to her clients.
Speaking to her, one can tell this is a person who absolutely thrives on having every detail checked and double checked, and delivering an impeccable workplace with clear policies and procedures in place for emergencies.
This isn't just Maria's job, it's her life.
"I love my job. I love it because people on this team have grown up with me," she says. "I spend so much time with my employees, and we learn together about safety, emergency cleaning management, proper handling of cleaning chemicals and ways to interact with our clients."
It makes sense for our teams and our clients.
At C&W Services, the career plan set out with Maria was not to develop the highest paid cleaner, but to have professional growth that provides better pay and sustained employment. She's just one of many fascinating stories in our 14,000-person strong team.
We love Maria's story because it shows that empowered frontline employees can build a development path and turn a cleaning job into a true career.
Who takes care of your facilities?
Maria is one of many stories we have from the field that demonstrate how our team's culture is the backbone of our service delivery success.
Get inspired and read more stories about employees just like Maria.
Let's connect about how our highly engaged team can help you.