Up-to-date energy prices and trends.
Cushman & Wakefield and Premiere Energy Auctions have released their Energy Market Update for May 2018. These monthly reports provide an overview of the economic, geopolitical, and meteorological factors affecting the energy market.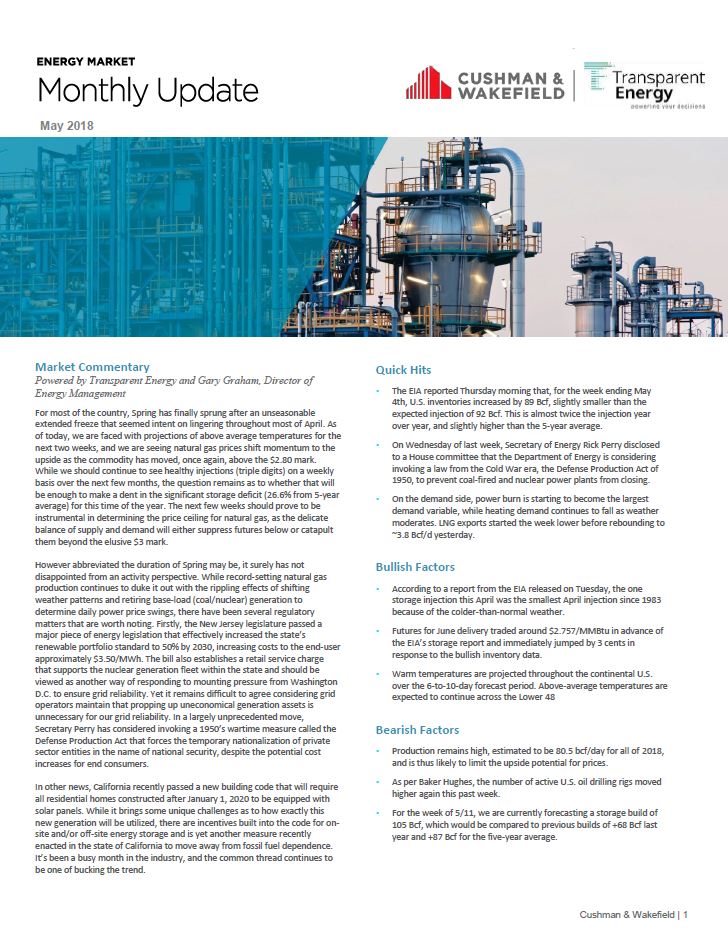 Record-setting natural gas production and shifting weather patterns determine daily power price swings.
Spring has finally arrived after an extended freeze that lingered throughout most of April. We are currently faced with projections for above average temperatures for the next two weeks, and, as a result, are seeing natural gas prices shift momentum to the upside as the commodity has moved, once again, above the $2.80 mark. While we should continue to see healthy injections on a weekly basis over the next few months, the question remains as to whether that will be enough to make a dent in the significant storage deficit for this time of the year.
Additionally, California passed a new building code that will require all residential homes constructed after January 1, 2020, to be equipped with solar panels. While this will present some unique challenges, there are incentives built into the code for on-site and/or off-site energy storage and is yet another measure recently enacted in the state of California to move away from fossil fuel dependence.
Additional important energy industry news.
The EIA reported that, for the week ending May 4th, U.S. inventories increased by 89 Bcf, slightly smaller than the projected injection of 92 Bcf. This is almost twice the injection year over year, and slightly higher than the 5-year average.
Futures for June delivery traded around $2.757/MMBtu in advance of the EIA's storage report and immediately jumped by three cents in response to the bullish inventory data.
Production remains high, estimated to be 80.5bcf/day for all of 2018, and is thus likely to limit the upside potential for prices.
To learn more about these developments and to get the latest gas prices, electricity price trends, natural gas data highlights, and temperature probabilities read the full energy update.
If you have any questions, Gary Graham, our director of energy management, can take you through the report.