Meet Myriam.
For many, learning one language is tough.
Imagine learning three, in a country where few speak your language.
Myriam—a C&W Services manager at the Gillette Stadium, home to the New England Patriots—accomplished this feat both out of necessity and, later on, to show respect to those she supervises.
Coming from an island off the west coast of Africa, Myriam spoke Creole and Portuguese when she arrived in the U.S. at the age of 18. She taught herself English, French and Spanish not through classes, but by simply interacting with those around her, asking questions and reading body language.
"I just was always a girl that wanted to learn how to speak another language," she says. "I wanted to know what people were saying."

Staying committed to the job.
Myriam became an assistant manager this year, first starting out as a custodian in 2001, cleaning the office of Robert Kraft—the owner of the stadium—her hard work and dedication propelling her along the way.
"I wasn't expecting to be a manager, but it's exciting," she says. "I've done well so far."
Now, Myriam is in charge of roughly 130 employees, on top of dealing with 63,000 fans every game day.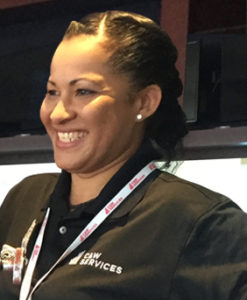 "I wasn't expecting to be a manager until I got an offer," she says. "It was a big surprise for me; it's exciting to be a manager."
Working and dealing with so many people in a given day can be stressful, but Myriam takes the stress in stride and doesn't lose her cool.
"I have to make sure that Gillette Stadium is clean," she says. "You've got to be strong. You've just got to be yourself to go through all of this in one day."
Finding inspiration through a supervisor.
For Myriam, the best part of her role is the support she receives from her manager Keri.
"The thing that I really like about my job is when my manager understands me and fixes the problems that I ask," she says. "[Keri] is always there. She understands, and she thinks like me. She shows me that she cares."
Myriam tells a story of when two managers left Keri alone, and she was forced to work from 7 a.m. to 3 a.m. Seeing her commitment showed Myriam they were cut from the same cloth.
"She's exactly like me," she says. "She's not afraid of work; she's just as strong as I am."
Who takes care of your facilities?
Myriam is one of many stories we have from the field that demonstrate how our team's culture is the backbone of our service delivery success.
Get inspired and read more stories about employees just like Myriam.
Let's connect about how our highly engaged team can help you.