Three employees represented C&W Services at the New York Stock Exchange.
On Thursday, August 2nd, Cushman & Wakefield's stock began trading on the New York Stock Exchange (NYSE) under the ticker symbol CWK.
While most companies send their senior executive teams to the NYSE IPO opening bell ringing ceremonies, we elected to have 14 employees from around the world represent us and serve as ambassadors for our 48,000 global employees. We were proud that out of that group of 14, three were from C&W Services: Holly Borrego, Karina Cuevas, and Nelson Flores.
Find out more about Holly, Karina, and Nelson, and learn what attending the IPO opening ceremony meant to them.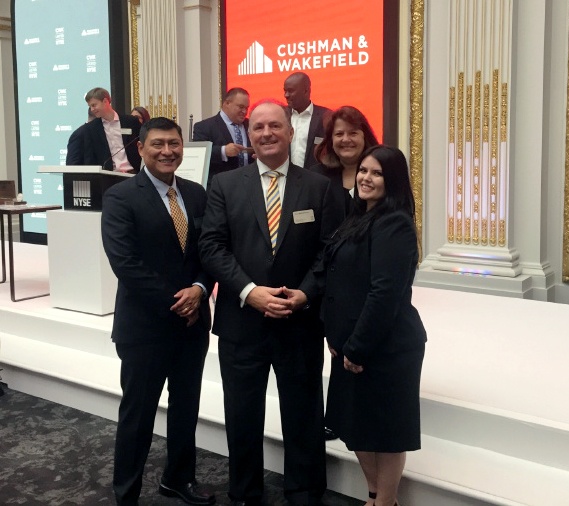 Holly Borrego, Senior Director of Cleaning Services
Holly brings innovation to our cleaning service lines, and has raised the productivity of our service delivery teams through the implementation of new technologies such as robotics and IoT sensors. She is extremely active in the industry and is focused on the advancement and retention of women in the industry. She has been with C&W Services since 2016.
"It is difficult to put into words what the day meant to me from many perspectives. Just the honor of being chosen was something I will never take for granted, and will never forget. Every minute of the adventure I was grateful for the opportunity to represent our colleagues and the company. So many people deserved the opportunity."
Karina Cuevas, Account Director
Karina is an innovative leader, adept at delivering high-quality services that exceed client expectations. Through hard work, dedication, and persistence, she has become a role model to her employees and an individual that clients trust. She has been with C&W Services since 2012.
"I have sat in front of the New York Stock Exchange many times, wondering what it's like to be on that floor. Never in a million years did I think I would be part of such an important milestone for the company, at the very place I only daydreamed about. It's an incredible feeling being at the stock exchange for our company's debut. I feel like I'm just doing my job as best I can and to be recognized for it in such a surreal way just leaves me speechless. I'm humbled and honored to have been chosen as one of the 14 worldwide representing the company, knowing there are so many others that could have been in that spot. I'm thankful for this once in a lifetime opportunity and am excited to see this new chapter in the company's life."
Nelson Flores, Account Manager
Nelson's "can do," client-centric attitude and his ability to introduce innovative new practices contributed to our successful renewal at Logan Airport (300 employees, $14M annual.) He is someone that many employees and colleagues look up to. He has been with the firm since 2017.
"Getting an unexpected phone call letting you know you would be one of the selected employees to be part of an important event, of course, takes you by surprise. I felt so honored and couldn't wait for the moment to be there, and couldn't wait to meet all of the others, together with the same common goal. The experience is unforgettable and it represents to me the company values that show us a road map to success that we achieve through hard work and dedication."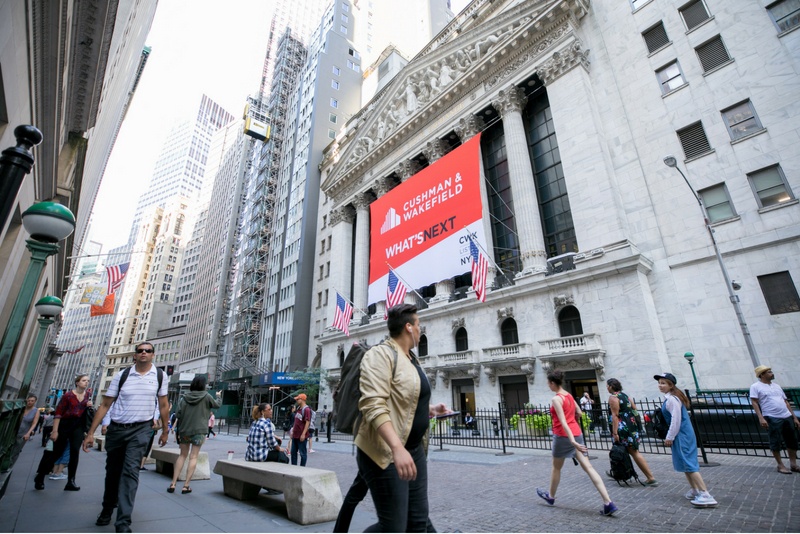 Who takes care of your facility?
We don't view our IPO as a destination or end goal. Instead, we see it as one milestone in our continual effort to raise the value of facilities services.
Get inspired and read stories about how our teams are going above and beyond at client sites across the U.S. and Canada.
Let's connect about how our highly engaged team can help you.