Congratulations to C&W Services Chief Executive Paul Bedborough on being named 2018 Man of the Year by the ISSA Hygieia Network during its awards ceremony on October 30, 2018, in Dallas, Texas. Paul was recognized for his commitment to promoting and celebrating diversity at every level of the company. Named after the Greek goddess of cleaning and hygiene, the ISSA Hygieia Network is an international community dedicated to the advancement and retention of women in all branches and at all levels of the global cleaning industry, with a special focus on cleaners' advancement.
Under Paul's stewardship, C&W Services has invested in myriad training programs to help people succeed in their existing roles and advance into new ones. He has made safety a cornerstone of the company's culture, greatly improving our record. Our safety record was recently honored by the National Safety Council, who awarded us nearly 60 commendations. Paul also embraced a new brand that celebrates everyone who contributes to raising the value of our company and our industry.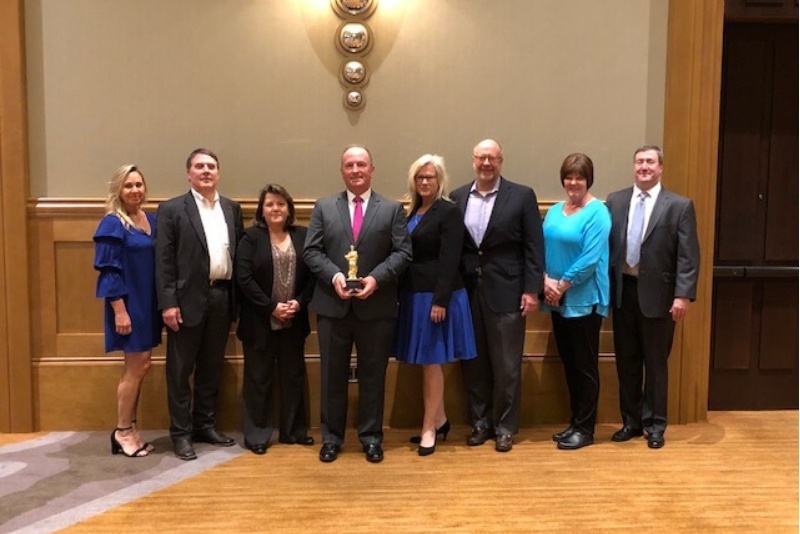 Paul celebrating with coworkers and guests at the awards dinner.
When C&W Services became an independent brand in late 2015, the firm needed to engage both its employees and its customers in Paul's vision of what the firm could be. Investment in training, innovation, subject-matter expertise, and technology were imminent. But before we started talking about what future investment would bring, under Paul's leadership we immediately focused on the here and-now of our service organization — the people who deliver excellent service to our clients every day.
From day one of the C&W Services brand, our celebration of people has been grassroots and diverse. To see that, just look at the company LinkedIn feed and blog where we publish two to three service stories a week. Since the blog launched in 2016, we have featured a wide range of female employees—from front-line workers to account managers to directors of various departments.
We also use the blog to share information related to mentoring and professional advancement. For example, in honor of International Women's Day, we hosted a roundtable discussion where various women from throughout the company talked about their experiences working in the facilities field.
Paul's goal of celebrating and mentoring the people of C&W Services isn't just limited to our website. It's also evident in our internal programs. Our newly expanded apprenticeship program aims to close the trade-skills gap by providing participants with rigorous on-the-job training and tuition assistance. This is a prime example of how we mentor new talent, as we provide them with an opportunity to earn while they learn. Our policies for salaried workers are flexible and allow working parents, caregivers, adult students, or anyone with multiple life demands to balance work and personal priorities.
Additionally, Paul's concern for the well-being of our employees can be seen in our consistently improving safety record. Our TRIR (Total Recordable Incident Rate) is the best in our company's history, and we achieved our 2018 goals for both TRIR and LTIR (Lost Time Incident Rate) eight months early.
From highlighting the great work our employees do to developing new talent to improving our safety record, Paul Bedborough has demonstrated that supporting, mentoring, and taking care of our diverse employee base is our top priority.