Our facilities services teams make every client site safe and secure.
Henrique, the account manager at a client site in Boston, works tirelessly to instill a culture of safety amongst his staff. And his hard work has been paying off: he and his team have gone over 1,100 days without a safety incident at the site.
"More than anything, I want everyone here to be able to return home to their families at the end of the day," Henrique says. "And that means our training has to be top notch. Every single month I hold safety-specific meetings where we go over rules and proper procedure."
Henrique also makes a point of encouraging his team to be on the lookout for safety hazards while they're working. This can result in them passing on notes to the maintenance team or, in many instances, fixing the issue themselves. "Just a few weeks ago, one of our team members spotted a ladder leaning up by the freight elevator," he says. "Someone could have easily walked into it. So the team member called me, and I then reached out to the people whose ladder it was. Within minutes the ladder was taken down."
Henrique also encourages his team to take a sense of ownership over the site. "I like to say we're the B-Team," he says. "A lot of people think the A-Team is the best, but "B" really stands for best. We really are the best team."
And the client agrees. "We have a great deal of faith in Henrqiue and his team," says Michelle, Senior Facilities Manager for the client. "We know if a work order is assigned to them they will get it done. They are extremely dependable and always come to us with any questions or suggestions. They are a real pleasure to worth with each day."

Meet some of our amazing team members.
We'd like to highlight some of the members of Henrique's "B-Team."
Manuel
Manuel is a functions porter at the client site, and he works directly with the client to make sure that office space and conference rooms are prepared to their exact specifications.
"He always goes above and beyond," says Henrique. "Just recently, he helped the client set up a room for a big meeting. They expected about 100 people to attend, but then, at the last minute, told him they needed to fit an extra 20 people in the space. Manuel went ahead and reorganized the entire seating layout in a very short period of time."
Manuel's effort hasn't gone unrecognized. He'd been the recipient of six Spot Awards, which are a prestigious internal award.
Socrates
Socrates is a supervisor at the site. "He's my right-hand man," says Henrique. "When I got here four years ago, Socrates was a member of the front-line staff, and he's worked his way up. He's learned a lot."
Socrates is known around the facility for his walks through the building, which he does two to three times a day. He sees these walks as an opportunity to talk to the staff, to give them encouragement and feedback, and to learn how their work is going.
"All of the employees are eager to work for him," says Henrique. "Anyone can go to him with any kind of problem, and he will fix it."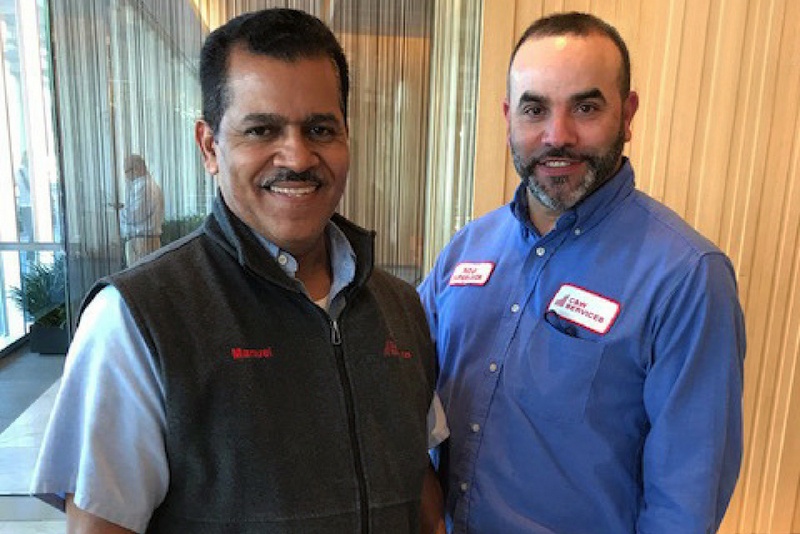 Who takes care of your facility?
Henrique, Manuel, and Socrates are a few examples of how our team's culture is the backbone of our service delivery success. We pride ourselves on delivering a broad portfolio of services, developing and empowering our people, and defining a new status quo.
Get inspired and read more stories about our amazing employees.
Let's connect about how our highly engaged team can help you.