Meet Robert.
While some people may think the Boy Scouts and facilities services have nothing in common, Robert—the operations manager for the headquarters of Toyota Motor Sales in Torrance, Calif., soon moving to Plano, Texas—disagrees.
A member in the Boy Scouts as a child, Robert notes that their motto—Be Prepared—aligns perfectly with the demands of the facilities services industry and his role as an operations manager.
"You just don't know what is going to happen, so you have to be prepared for anything," he says. "But, at the same time, you have to be able to adjust and be flexible."
The early bird gets the worm.
Robert, who has been with C&W Services for five-and-a-half years, sets a meeting every morning at 7 a.m. with his team to make a plan for that day. At the building, they have a whiteboard wall where they list out the tasks and projects that need to be finished. During the morning meeting, they update the board, add new items and remove completed work. But he knows those tasks and duties for the day aren't set in stone.
"We have that morning meeting to make a plan," he says. "That plan is going to change, but you still need one."
Going off book.
One incident that went off day-to-day planning was 2012—s Hurricane Sandy—the largest Atlantic hurricane on record. C&W Services provides facility work to a four-building site directly on the Hudson River, and the storm caused the facility to flood, taking in 3 feet of water.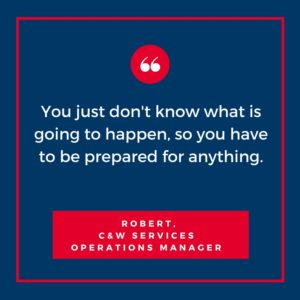 The team came together working 17 hours a day to strip carpet, cut drywall and remove all office furniture. They reset rooftop HVAC equipment that had been blown off of the pads, dismantled and dry-ice blasted the conveyor system to remove salt water corrosion and then put everything back together—all with scarce generators and supplies.
Overall, it took about four weeks to complete the entire project—two weeks to get the facility partially operational and another two to become fully functional.
Cheerleaders of success.
At Toyota, the client and the C&W Services team work together as one. Each side constantly interacts with each other, laughing, joking and talking, and each wants the other to succeed in their respective roles.
"We have a great relationship and daily interaction," says Robert. ?[Toyota] treats us as part of their team. They want us to succeed as much as we do."
This is a refrain we have heard time and time again from our accounts in Boston to teams in the San Francisco Bay Area, from account sites in Dallas to our Minneapolis-based facilities teams. Each and every one of them work hand in hand with our clients to achieve optimal success.
Who takes care of your facilities?
Robert is one of many stories we have from the field that demonstrate how our team's culture is the backbone of our service delivery success.
Get inspired and read more stories about employees just like Robert.
Let's connect about how our highly engaged team can help you.