Meet David.
Most people wouldn't find taking apart a lock, repairing it, and then putting over seventy small, interlocking pieces back together especially enjoyable, never mind relaxing. Thankfully, David, a locksmith at a client site in Massachusetts, isn't most people.
"I've always been mechanically inclined," David says. "So I find working with these small parts and instruments relaxing. You have to focus so intensely on each movement. Everything else just fades away."
David didn't always know that a career as a locksmith was right for him, though. About twenty years ago, he was working as a carpenter at a local playhouse, building sets and furniture, when an opportunity presented itself.
"One of the people at the theatre lent me his keys to a storage space so I wouldn't have to haul my tools back home every day," he says. "After the play was over, I went to give him his keys back, and I guess he was impressed by my work because he told me, "if you want a job, show up here at eight A.M." I've been showing up at eight A.M. every day since."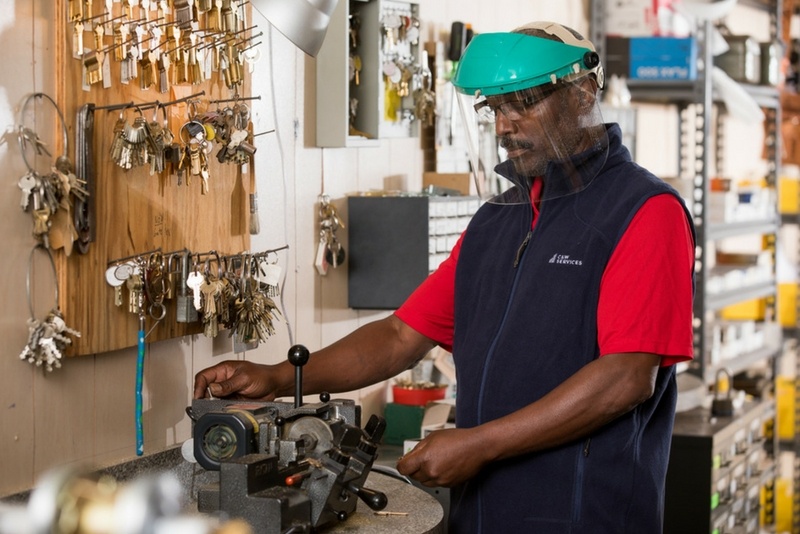 A passion for parts.
Now, David couldn't imagine doing anything else. "I've realized that taking things apart and putting them back together is something that I really enjoy. I even do it in my spare time. I love building model cars for my kids to play with."
Looking toward the future, David hopes to continue producing high-quality work that satisfies both his team and the client. "Sometimes the students here jam things like paperclips into the locks as part of a prank," he says. "I've gotten really good at removing that kind of stuff. I'm always trying to up my skills and become better at the specific tasks that this site requires."
David is also very serious about security at the site and about adhering to policy. "A lot of the students have a very relaxed attitude when it comes to their keys," he says. "But I take a lot of pride in making sure that my records are up-to-date. I track who was assigned which keys, when they were reported lost, and who was assigned a replacement when. It's an important aspect of my job, and it's vital to the operation of the site."
This dedication to best practices, continual improvement, and safety and security is something that C&W Services promotes at all of its client sites.
Who takes care of your facilities?
David is one of many stories we have from the field that demonstrate how our team's culture is the backbone of our service delivery success.
Get inspired and read more stories about employees just like David.
Let's connect about how our highly engaged team can help you.