Tool tips.
Have you ever wondered about the safest way to remove snow? Or how about how to develop a fire escape plan? Our new series, The Safe Side, details quick, easy, and accurate tips that our front-line staff members employ every day at facilities across the country.
In our inaugural post, we—ll be detailing the proper way to store a ladder.
1. Always return your ladder to its storage area after use. Make sure that this storage area is easy to reach and protects the ladder from the weather. If your ladder is reinforced by plastic (fiberglass) make sure to keep it out of direct sunlight, as ultraviolet rays may cause the plastic to degrade over time. Always replace your ladder if you think its stability has weakened.
2. When transporting your ladder, first make sure that it is clean and free of other items and materials. If you can carry the ladder on your own, make sure to grasp it near the center. Never hold a ladder at head level. If you are carrying the ladder with a partner, ensure that you are both on the same side of the ladder. Stay in step with one another, and work out in advance any hand or voice signals to coordinate stopping or the changing of direction. Always use a partner to carry heavy or long ladders.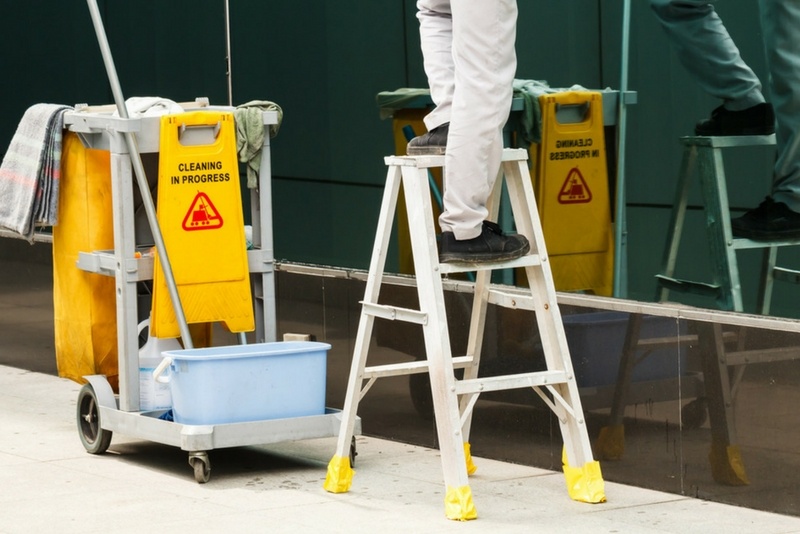 3. Make sure to proceed with caution when you are carrying a ladder through a passageway, doorway, or any environment where your view may be obstructed.
4. When transporting a ladder on a vehicle, make sure to avoid long overhangs beyond support points. If the ladder does have an overhang, make sure to mark it with red or orange flags.
5. If you ever see a defect in your ladder, make sure to note it and remove the ladder from service. Contact a repair person authorized by the manufacturer or replace the ladder. Never use a ladder that has been exposed to fire or heat over 200 F.
Creating a culture of safety.
At C&W Services we're committed to establishing a culture of safety and excellence at all of our client sites. Connect with a team member for more information.