We're investing in training and developing women.
When you hear about industrial maintenance jobs in welding, HVAC, electrical, instrumentation and mechanical, a woman in a hard hat might not be your first mental picture. C&W Services in Blair, Nebraska is changing this way of thinking.
C&W Services provides integrated facility services to more than 600 customers in the United States, Canada, and Puerto Rico. Even with 14,000 motivated and skilled employees, we face challenges in recruiting for skilled trades in today's labor markets. We're investing in new training, employee development, apprenticeship and veteran outreach programs, to attract and develop high performing employees. Diversity and inclusion is one of our five strategic priorities for 2019, and seven women employees at Blair are an example of how an inclusive work force raises the value for our clients and our teams.
Josie Gutschow is one of the newest employees, joining as a Vibration Data Collector. "I was going to go to college to be a bio-chemist, but the student loans are very high. I could not afford it, nor do I want to be in debt that large," she explains. "I have always been interested in the industrial field. Welding is really exciting, and C&W Services in Blair offers training and apprenticeship programs that I could step into someday. They are providing me a career. I am in vibration data collecting now and I love that I get to learn what makes an industrial site run and what I am doing is helping in a huge way with cost, repair and downtime. It is great that C&W Services gives women these chances to take on these positions."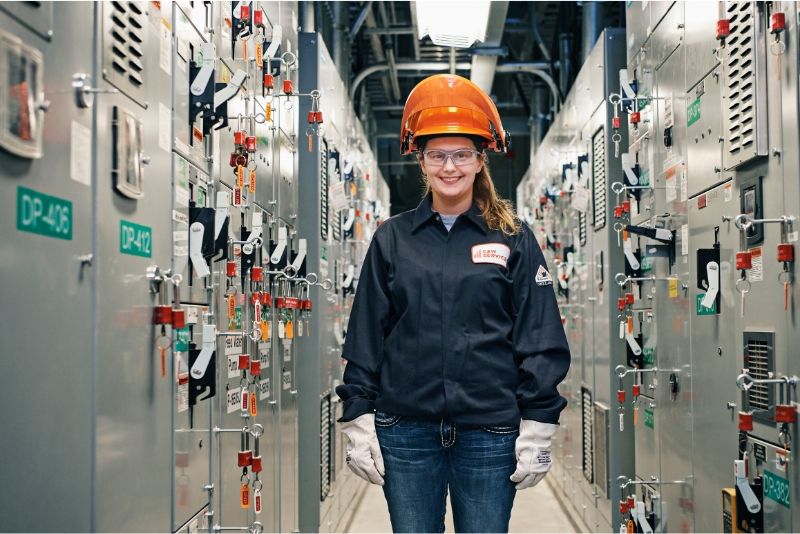 Nora Cobb, welding technician, started working here one month ago and was very excited to start working in the field she was trained to do. "I was excited to work for C&W Services because they are going to teach me and continue to better me at my craft. Not many companies are willing to do that," she says.
According to Ryan Warrick, Account Manager for Cargill in Blair Nebraska, the company is intentional in its recruiting of women for industrial maintenance positions. "Women are highly skilled with their hands, they have incredible troubleshooting skills and are better at patience, for sure," he says. "They're a great asset in many fields of Industrial Maintenance like Welding, Fitting, HVAC, Electrical and Instrumentation and Mechanical. That's why we don't just talk to men about what we do at our site. We love to talk to women and tell them that they can do a great job in industrial maintenance. We have some of the best women working for us now and I am excited to hire more!"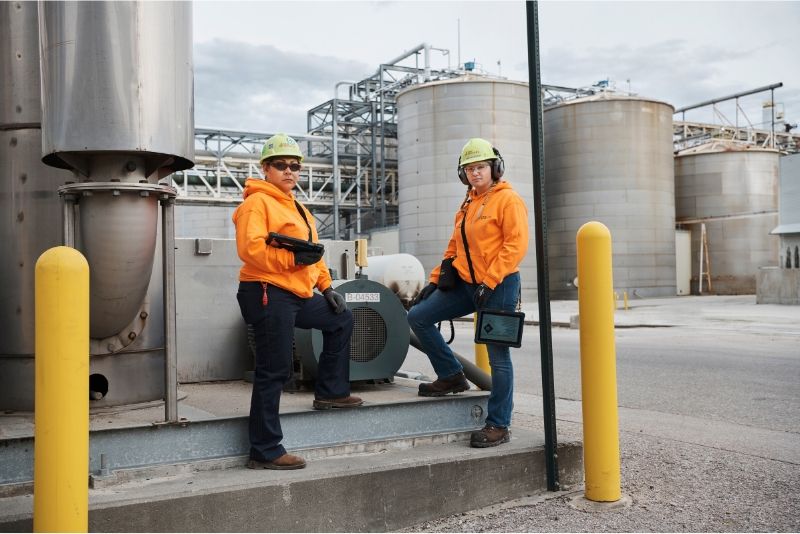 According to the U.S. Bureau of Labor, women make only 80.2 percent of what men earn in the United States. While this inequality is present in almost all sectors, in skilled trades industries the salary gap is significantly lower — women make around 94 percent of what their male counterparts take home. To encourage women to join C&W Services in industrial maintenance positions, we put the emphasis on the wide range of jobs and their long term career potential. Pointing to role models – women who are excelling at their jobs – is very effective in showing candidates the potential in industrial maintenance careers. C&W Services in Blair is focusing on visiting colleges and high schools every year to bring awareness to all students, and to encourage everyone to apply.
With 22 years tenure at C&W Services, Jean Meyer is an ideal role model. "I have worked in a lot of industrial jobs over my many years of working for C&W Services. I started off in painting in the plants then went to be a mechanic's helper and ended up in lubrication. Now I am an ultrasonic technician monitoring and listening to bearings in motors in order to be proactive about the maintenance of machinery. This way our customer will have fewer breakdowns and it saves them money on repair," she says.
Maria Renteria started out in janitorial and later moved to a role as a vibration data collector. Her ambition and pride in her work are also inspiring for women considering the field. "I am willing to work hard and try anything," she says. "It offers more money to be in a skilled position. I take pride in what I do here my work is very interesting and important."
C&W Services hopes to attract more women to the industrial work force because we value what they offer along with men. We believe that it takes all types of minds and skills to run efficiently.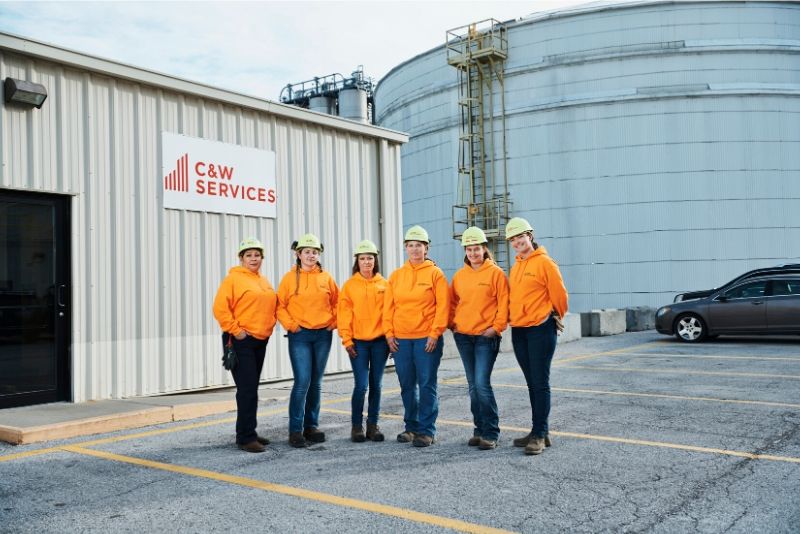 Who takes care of your facility?
This is one of many stories we have from the field that demonstrate how our team's culture is the backbone of our service delivery success. We pride ourselves on delivering a broad portfolio of services, developing and empowering our people, and defining a new status quo.
Get inspired and read more stories about employees just like the team at Blair.
Let's connect about how our highly engaged team can help you.