Our teams keep everyone on campus safe.
We provide janitorial services to a prestigious private school in the Toronto area, and our team there prides itself on always going above and beyond.
One example of our team's dedication to service occurred last winter during a large snow storm. A school employee was working late, and Tony, the supervisor at the site, let her know that her car was getting buried.
"Tony and I had a very nice chat, and he asked if my car was the one still in the parking lot," the school employee says. "I confirmed that it was, and he told me about that it was getting covered in snow and that the one area of the parking lot that had been plowed had actually pushed snow up to the back of my car. Needless to say, I didn't have a shovel nor was there one onsite for me to clear the driveway to get my car out."
C&W Services doesn't handle snow removal at the school, but following that conversation, Tony took it upon himself to help the employee.
"When I went to leave around 10pm, I saw Tony outside with a broom," the employee says. "He had not only cleared a path from the school to my car but had also cleared all of the snow off of my car. I was so moved and impressed that he went above and beyond to help me like that."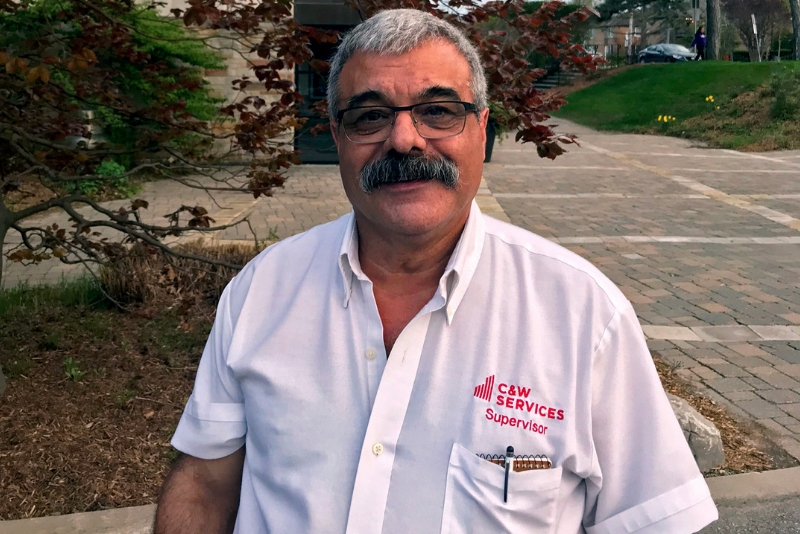 Tony didn't expect to be awarded for this task. In fact, when his manager, Alfredo Delgado, took him out to dinner to celebrate the snow removal effort, Tony said that he didn't know why it was such a big deal. To him, it was just another day at work.
"I'm very proud of Tony," says Alfredo. "He's a really hard worker. The fact that he took it upon himself to do this extra task in the middle of a storm says a lot about his character."
Who takes care of your facility?

Tony is one of many stories we have from the field that demonstrate how our team's culture is the backbone of our service delivery success. We pride ourselves on delivering a broad portfolio of services, developing and empowering our people, and defining a new status quo.
Get inspired and read more stories about employees just like Tony.
Let's connect about how our highly engaged team can help you.