Meet Wanda.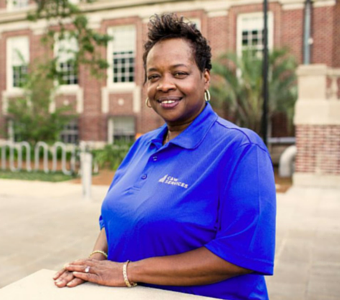 On her first day of college, 16-year-old Sarah Kelleher would meet someone who would have a profound impact on her college career. That person was Wanda Maxwell—a C&W Services janitorial cleaning shift supervisor at Tulane University in New Orleans. Their relationship lasted throughout Sarah's four years at the college, with Wanda providing encouragement, laughter, wisdom, understanding, advice and a shoulder to lean on.
Facilities services, and more specifically janitorial services, are an often-overlooked facet of the college experience. However, the safety, cleanliness and efficiency of a campus—and especially a residence hall—have a major impact on students. As an upperclassman, Sarah became a resident advisor at Tulane, creating an even stronger connection to Wanda's team at her residence hall. She continued to be a source of support for Sarah as they worked together to keep the residence hall clean and orderly.
Four years of constant support created a lasting connection.
Earlier this month, Sarah sent an email to C&W Services, noting the importance Wanda has had on her college career. C&W Services' culture thrives on examples of exemplary service, like this.
"I have been a student at Tulane University for the past four years. I met Ms. Wanda on my first day at Tulane while living in Wall Residential College. Since that time she has been supporting me unconditionally and providing needed pep talks. She is one of the most genuinely kind and caring individuals I have ever met and she has brought joy to so many lives. She never shies away from hard work and always goes the extra mile to help me and the thousands of other residents whose lives she has changed.
"Ms. Wanda never wavered in her enthusiasm, care and motivational conversations. Also, I know she is likely meant to be working on Saturday, but it would mean so much to me if she were able to attend my graduation. She has been a significant part of my success. She is an extraordinary individual and deserves recognition for her hard work.

Recognizing service excellence in facilities management.
Wanda's contributions to Tulane and its students were recognized—by students, by Tulane, by C&W Service president Paul Bedborough, and most importantly, by Sarah's family on graduation day.
Every day across the country, our team members provide the maintenance and janitorial services that keep their client sites safe, efficient, clean and productive. But beyond this core competency, team members like Wanda have a personal connection and level of care in the way they understand client needs and go out of their way to meet them. Site after site, day in and day out, we see this "extra level"of service delivery. Today we thank Wanda, and everyone on our facilities services team who embodies her spirit of services.
Who takes care of your facilities?
Wanda is one of many stories we have from the field that demonstrate how our team's culture is the backbone of our service delivery success.
Get inspired and read more stories about employees just like Wanda.
Let's connect about how our highly engaged team can help you.