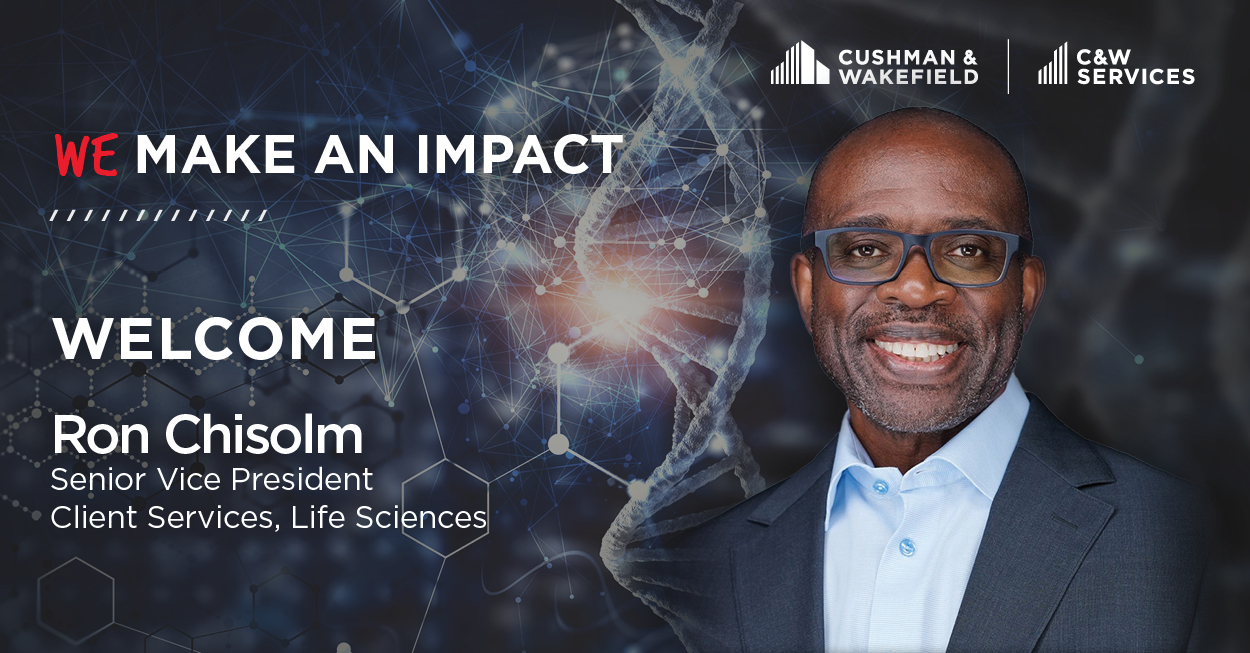 We are pleased to announce that Ron Chisolm has joined C&W Services as Senior Vice President, Client Services, Life Sciences.
Ron will be responsible for our Life Sciences client portfolio across North America and will accelerate development of the Life Sciences vertical, while also delivering service excellence within our client portfolio. 
Ron will work closely with Cushman & Wakefield's Life Sciences Advisory Council, collaborating on national and global growth opportunities, developing critical thought leadership and best practices to support evolving client needs.
"Life Sciences is clearly a very important growth area for the firm, and we are thrilled to have an executive of Ron's caliber and experience join us to lead CWS's first consolidated end-to-end vertical," said Jodi Swinburne, Chief Operating Officer, C&W Services. "We expect to gain momentum and market share under his leadership."
Ron brings over 25 years of pharma and biotech manufacturing and operations experience. He joins us from JLL where he served as Executive Vice President, Global Life Sciences Account Executive/IFM Lead for the Bristol Myers Squibb account. Prior to JLL, Ron spent over 14 years at Roche/Genentech in leadership positions of increasing responsibilities, including as Head of Manufacturing, and in Facilities and Engineering as well as other Strategy and Process Excellence roles. 
"I'm pleased to be joining Cushman & Wakefield and being part of the thriving Life Sciences team," said Chisolm. "I look forward to applying my years of experience to help further develop and grow the business as well as working with the firm's deep pool of resources and robust global team to provide best-in-class real estate and advisory solutions to our clients."
Ron holds a Bachelor of Science degree in Chemical Engineering from Michigan State University, is a certified Lean Six Sigma Black Belt, and holds various quality and manufacturing certifications. 
Welcome, Ron!