Claudia Salgado-McDonald joined C&W Services in January 2016. Her main responsibilities include successfully implementing and maintaining service optimization program strategy.
As the leader of the Productivity and Utilization Team, I drive awareness and development of a continuous improvement culture that is spread throughout C&W Services. This culture enables the profitable and consistent delivery of products and services within facilities services in North Americas.
I'm also responsible for developing a strategy and collaborating with team members to implement optimized operations processes aligned with corporate service performance and development area; interacting with C&W Services" operations leaders, account directors, account managers, field teams, client representatives, corporate leadership, and product and services experts to ensure the timely implementation of standardized operational improvement programs that increase the efficiency of maintenance, cleaning and operations; delivering an expected service level for customers; and identifying strategies to implement cost reductions for clients and/or margin increase initiatives.
I joined C&W Services because the company is recognized as one that drives and values diversity and continuous improvement. C&W Services is a company that is willing to invest in its people and innovation to drive efficiencies and enhance its reputation in the market so that it becomes even stronger and transcendental.
1. Can you tell me about yourself and your career trajectory?
My major is chemical engineering and I have a master's degree in business administration.
I earned my bachelor's degree in chemical engineering at the Universidad Iberoamericana and my master's degree in business administration from the Incarnate Word University (affiliated with the IWU in the USA), both located in Mexico City, Mexico.
I worked for three years at Honeywell in Mexico as an account manager for energy conservation projects, mainly working with auto industry customers.
Following that, I moved to Johnson Controls as an account manager for industrial clients. I then accepted the position of services sales manager and later was appointed director and general manager—Latin America of the Global WorkPlace Solutions (Facilities Management) Business, also in Johnson Controls. Here, I was responsible for the operations of JCI-GWS for Latin America, still located in Mexico.
Later on, I moved to the USA as a Geo Leader for the West Region, still in JCI-GWS. This business (GWS) was sold by JCI to CBRE at the end of 2015.
Finally, in January 2016, I decided to come work for C&W Services in my current role as senior director of productivity and utilization as part of Steve Herbst's team. I was drawn to C&W Services, because of its reputation in the marketplace as one of the stronger facilities services companies in the world. The company's work ethics and values align with mine, and it's a company that promotes development and growth for its employees.
2. Can you tell me about your time with C&W Services?
I have been here for almost 11 months. At the onset, I was given the mission and challenge to develop a productivity and optimization program that helps accounts maximize their productivity and enhance the utilization of our human resources, while bringing innovation, best business practices and work process optimization to the accounts.
I have a wonderful team of three people that bring the best of their experiences and knowledge to help our accounts maximize and optimize their potential. They are: Angel Doyle, director of productivity and optimization; Kay Cook, services optimization specialist with a focus on janitorial services; and Mike Bova, the operations controller, who doesn't work for me but works with us as he is part of the finance organization. He is a big contributor to my team's results.
3. What motivates you?
During my professional experience in this industry, I have come to realize that the most important assets that a company like ours has is our people.
Working with our employees and seeing firsthand what they do for our customers—how committed, engaged and proud they are to provide services to them and how my team can help them to find optimized ways to do their work—is what gives me the stamina to go about our mission every day.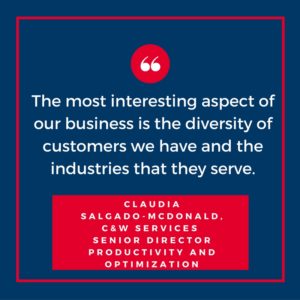 4. What interests you most about the facilities services industry?
The most interesting aspect of our business is the diversity of customers we have and industries that they serve. Visiting client sites and seeing them at their place of work while we observe what our people do for them, recognizing that we are the experts on the services that we provide and helping them focus on their own core business, fascinates me and motivates me at the same time. Our business is one of the most diverse in the services industry, and that is something that interests me the most.
5. Can you talk about the DILO program you work on?
Steve Herbst and another group of people created the DILO program before I joined. They started applying this process in some accounts, and then, when I came on board, I helped systematize and formalize it.
Our program is more than just DILO.
As many of you know, DILO stands for "A Day in a Life Of." It's a technique and a tool used by Lean Six Sigma processes to shadow a person for an entire shift, to understand what they do, how they do it and what obstacles they find to execute their productive tasks for which the customers pay us. The amount of time that people dedicate to execute these tasks or any other productive tasks during their workday as a percentage of the entire time, is what's called percentage of productivity.
When we asses an account, we use the DILO process as a tool to measure their productivity, and based on what we observe in terms of the non-value added time or waste time during the workday, we recommend modifying or changing their work at the accounts to increase productivity.
But, DILO is just one of the many tools we use to assess an account.
Another tool is the revision of the workflow process and workflow management our teams have at their sites, the systems they use and whether or not they have mobile devices to better distribute and manage work orders, etc. We also look for planner and scheduler and monitor how they go distribute and manage work.
We also look at their inspection process (mainly for cleaning) and the tools they use to get their work done. If they don't have any, we encourage them to use CleanTelligent, which is the official C&W Services tool used for quality cleaning inspections at site level; it also can be used for opening work orders on something that needs attention and to schedule periodic work, in case they don't have any other system to schedule this work.
We also review the organizational structure of the account to measure the supervisors to workers ratio based on the spans and layers standard.
Based on this, we also provide a set of recommendations on how to optimize the organization.
We look over the account's financial performance using a financial productivity metric that is calculated by dividing the revenue by the cost of labor. This metric is measured in dollars.
We also analyze the account's profitability, what may be affecting it and also the usage of overtime by the account. If we identify that the account has an overtime usage above our company goal of 3 percent in hours over regular hours, we try to identify the root cause of this overtime usage and provide recommendations on how to reduce it by mitigating those root causes.
Last but not least, we observe the job plans and the way people execute their work, both for cleaning and maintenance. We also recommend training that might be needed by the execution teams. This training can be: planning and scheduling, specific training for technicians, rag and mop usage for cleaners as well as specific instructions on how to clean a rest room, for example.
So, as you can see, our program encompasses more than just DILOs. It is a comprehensive operational assessment that, in general, finds opportunities to improve the way we provide services to our clients. These opportunities are presented to the operations teams at the accounts—from the corporate leaders to the account site managers—in the form of a report that shows our observations and our recommendations for improvement.
This is a unique program in the industry that is gaining momentum within C&W Services and its clients, representing a big differentiator for our company versus the competition.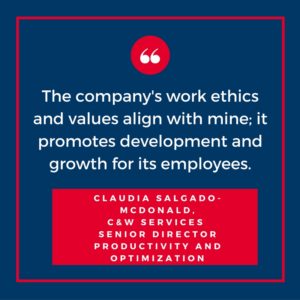 6. What are your goals for the project?
Mainly to identify opportunities that improve the way we deliver services to our clients, including opportunities to find savings for our customers or improve the financial performance of the account and bring innovation and best business practices to the site level.
7. Any other comments you have about your career or C&W Services in general?
I am extremely happy and grateful to work for this wonderful company where they value diverse talent and have a goal of providing the best customer service in the industry.
I very much want to continue bringing my experience and knowledge to the company and keep growing and developing within it.