Facilities services is a male-dominated industry, but change is on its way.
Kerriann has plenty of experience working in male-dominated groups.
As an engineering student, she was one of only four women that graduated with a degree in her program.
"Working with few women is something I've been used to," she says. "I've dealt with it throughout my career."
Kerriann is the director of operations for the northeast region at C&W Services; she holds a bachelor's degree in engineering and a master's degree in facilities management. One of her clients is Gillette Stadium in Foxborough, Mass.
A dynamic duo.
Kerriann's right-hand woman is Janette, a regional operations coordinator. She travels with Kerriann to all of their sites around the region they serve.
"Janette is the backbone of my operations," she says. "I couldn't do anything without her."
For Janette, the best part of her job is the variety of people and things she encounters every day.
"I like the diversity of my work," she says. "I love the opportunity to go to different sites all of the time and meet new people."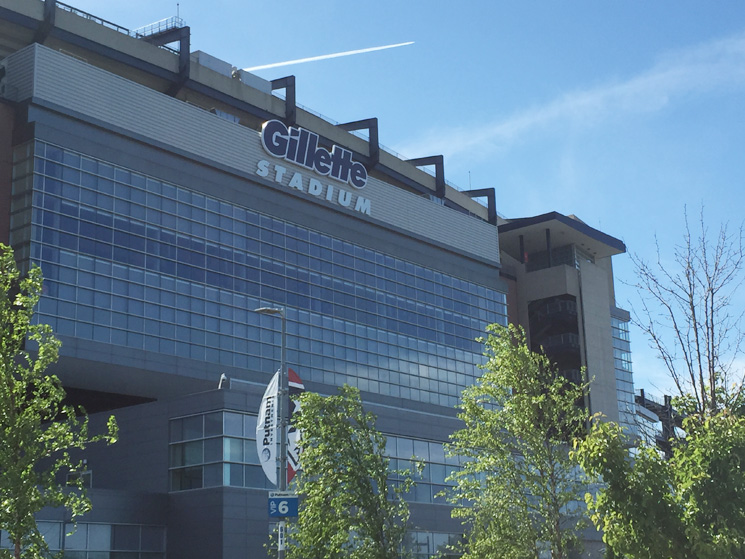 Bringing about change.
When Janette started at Gillette Stadium, she was one of the only woman on the team. To succeed in male-dominated industries, she encourages women to believe in themselves.
"Just have confidence," says Janette. "Be strong. That's number one."
Kerriann makes it a point to find the women looking for internships and jobs in the industry and making them part of her team.
"A lack of women is an unfortunate side effect of the industry right now," she says. "But I definitely see that changing."
A customer focus.
Kerriann is dedicated to her job and the role she plays at C&W Services. And with the help of Janette, she gets things done.
One challenge Kerriann worked to overcome was during a competitive rebid process.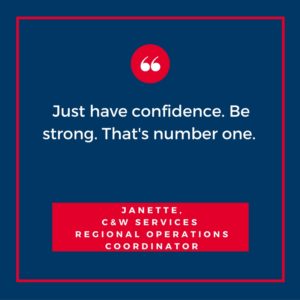 "We fought really hard," she says. "We really strategized and came up with a great plan. We ended up getting the rebid and were rewarded with the job."
That plan included implementing standards and procedures that weren't there before. They also put in place a safety program and created structure around the account.
"We added structure to the account using all of the tools we had available," she says. "We did an analysis, created standards and procedures and key process improvements and just got those standards in place.
She was only six months into the account.
Growing accounts is an important part of both their roles and something they're dedicated to achieving.
"I love the challenge of going into an account, taking something that is there and growing our program," says Kerriann. "Watching an account that wasn't so great growing to be one of the best accounts in the regions, it's really the best part of the job."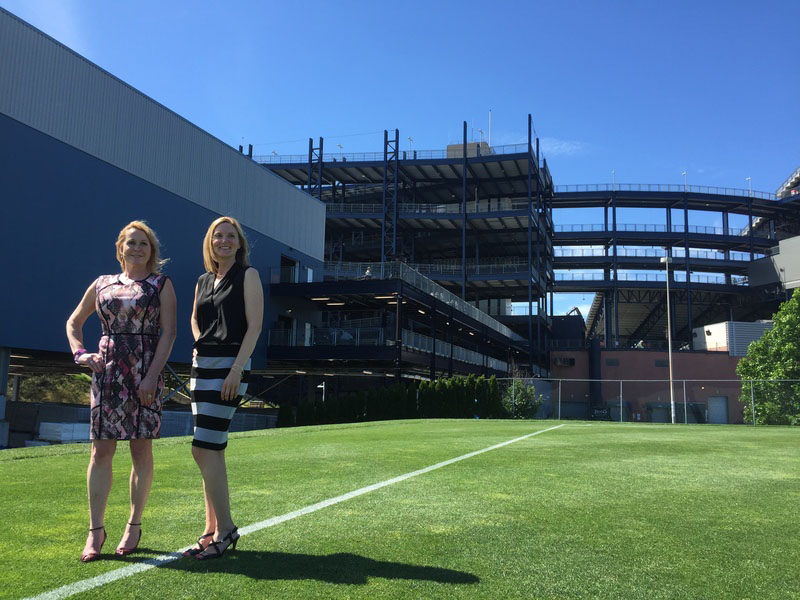 Face to face.
Neither Janette nor Kerriann have an office—a decision they made on purpose. The duo believe it's important to be out and about at their sites to support their teams and the customers.
"You learn a lot by being there and listening to the issues," says Kerriann. "If I'm not accessible, the team may not look for that assistance. It's the same thing with customers. I like them to know that I'm around."
This in-person contact allows them to meet with so many different groups. As Kerriann puts it, one minute she could be meeting with the part-time janitorial staff and the next with high-level professional engineers. At another time, she could be interacting with the stadium operations group and then the next minute a different customer group.
"Interacting with different people helps with your communication skills," she says. "You learn to adapt to your audience and manage the group of people in front of you. It's been very challenging sometimes and very rewarding other times."
Changing the norm.
For Kerriann and Janette bringing more women into the male-dominated facilities services industry is an important part of their respective roles. They both know that acceptance is tough, but determination and grit can get all women through any situation. Kerriann hopes that one day her daughters will follow along the path she took—go to college and study engineering—but this time, she—ll have more women right alongside her.
A career in facilities.
Are you interested in learning more about joining Kerriann's team, or some of our other strong teams around the country? Check out our current job openings.