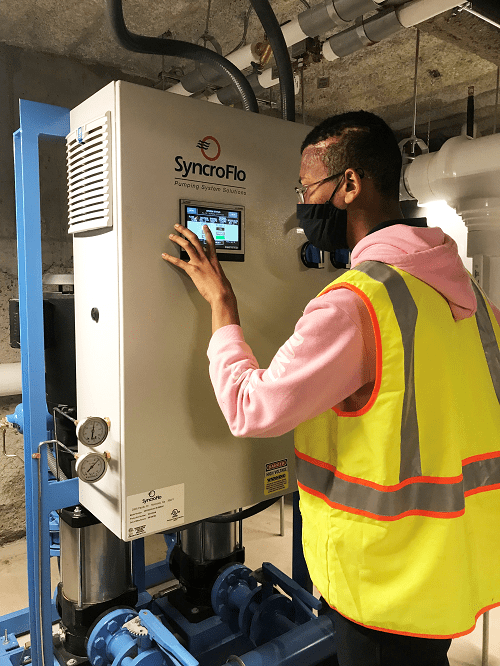 In 2021, C&W Services launched a High School Co-Operative Program to train future skilled trade workers in the facilities management industry. The program provides in-depth, hands-on experience and professional connections. As part of the C&W Services Co-Op program, our students gain career-focused work experience, and earn a specialized co-op degree title upon completion. 
In partnership with C&W Services' client, local development company WS Development, a special collaboration formed with the objective of developing and educating local high school students in the field of facilities management. This realization to engage Boston youth and fund a co-op program collaboratively with WS Development, a major developer in Boston's Seaport neighborhood, provides a great opportunity to a local high school student to gain exposure to this career track and be a part of some of the largest new development projects happening anywhere in Boston. 
This month we interviewed Luis (pictured left), a Massachusetts high school student who started with the C&W Services Co-Op program in November 2021 at WS Development's newly constructed Amazon building in Boston's Seaport neighborhood. Luis shares his experience and how the Co-Op program will help his future aspirations.  
Q: Tell us about your Co-Op journey. What drew your attention to the C&W Services Co-Op program?  
The Cooperation Education Coordinator at our Technical Vocational high school reached out to me and thought it would be an excellent opportunity to join the C&W Services Co-Op program. My professional goals involve an emphasis on facilities, particularly engineering, so it seemed like a natural fit. 
Q: What made you decide to participate?  
I attend a Technical Vocational high school where it is highly encouraged to join a Co-Op to obtain experience and exposure.  
Q: What are your responsibilities at C&W Services? 
Monday through Friday, from 7:30 a.m. to 3:00 p.m., I work as a Facility Maintenance Intern for a technology customer alongside other C&W Services personnel. The team has provided me with hands-on training and direction. The job is challenging and exciting, and I enjoy engineering's intricacy. I give my mentor, Jose Velazquez Avila, HVAC Maintenance Technician of C&W Services, credit for keeping my mind sharp and supporting me through challenges. 
Q: What have you learned since joining?  
I learned how to be more self-sufficient. I had no idea what an engineer did or what it entailed before entering the Co-Op program. Now I do, and it's the most fulfilling experience I've ever had. 
Q: What do you enjoy most about the work that you do?  
I love the people at C&W Services. One of the few jobs that have made me feel welcomed from the beginning. I want to express my gratitude to the C&W Services leaders who believed in me when I joined the Co-Op program including, David Miles, Mike Cook, Bob Boudrot, and Jose Velazquez.  
Q: What advice would you give others looking to join a Co-Op program? 
Definitely do it! The experience of a Co-Op is a fantastic opportunity that you should not pass up. This will not only help with building skills but advance your future career. Shoot for your dreams.  
For more information about the C&W Services Co-Op Program, please reach out to Sara O'Brien, Director, Workforce Strategy & Development.