Meet Donald.
When on any given week you might see Beyonc , a monster truck rally and a fishing convention, it's safe to say no two days are the same.
But that's just par for the course at the convention center where Donald works. He and a 60-person C&W Services team provide janitorial services, event set-up and breakdown, and housekeeping, including post-event cleaning, carpet cleaning, floor care and recycling for 88 meeting rooms and ballrooms. As many of our facilities staff serving public venues can attest, providing janitorial and other services for a convention center can be unlike any other facility due to its size and frequent use.
A race to success.
Donald, account manager, says that the toughest challenge he and his team have faced since he joined was the Gateway Dirt Nationals. The event, an indoor stock car race on a dirt track with hundreds of gas-powered cars, took in mountains of dirt across the main area of the center and its five halls, which were used for the pits.
"It was a three-day show, and afterwards, the entire building was dirtier than I'd ever seen it," says Donald. "It took weeks to clean up—it was just the messiest thing."
The team handled it with aplomb, and the experience assured Donald that they—ll be more than prepared for the years to come.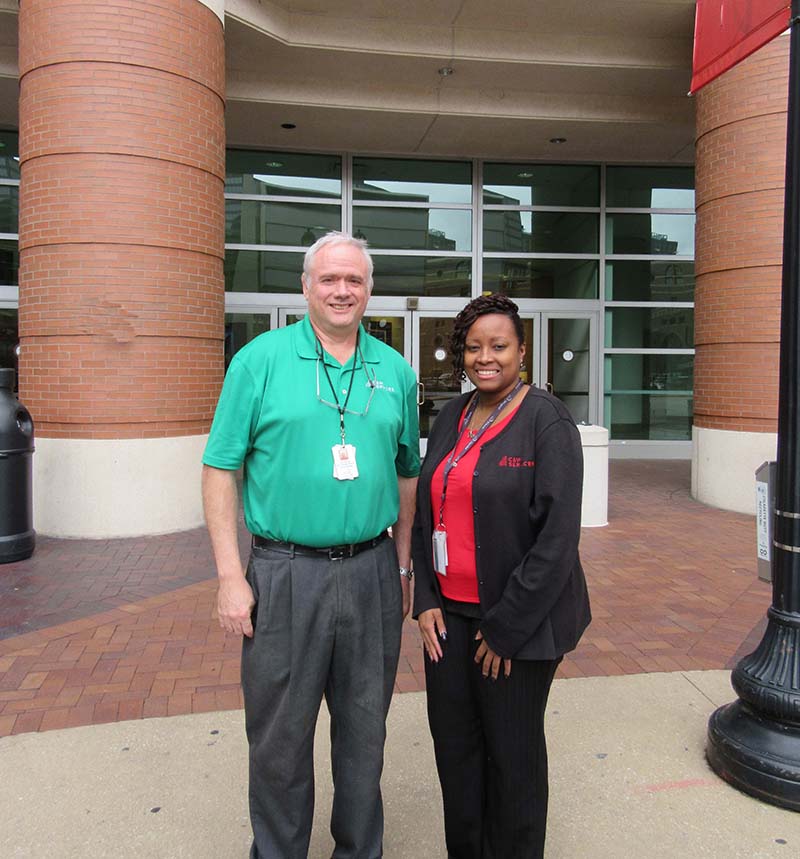 Making it work for two clients.
Events at the convention center are always changing—more than one event can happen on any given day, and setups and breakdowns are constant. This sort of pace presents a challenge for the client and Donald's team as they're both beholden to the end user.
"We work really hard at making it a seamless experience for the end user," he says. "We are able to get to know the end user clients as we have repeat customers who come every year for their convention, and we enjoy that."
To ensure that both the client and their clients are satisfied with how the convention center looks and feels, Donald stresses the importance of communication.
"The way we make everything work is a combination of good communication and a great relationship with our client," he says.
Tips from a pro.
When first starting out at an account, Donald notes that creating a strong relationship with the client is vital.
"Get to you know your client immediately," says Donald. "Find out what their expectations are and learn the nature of the business. Every account is different."
But it's not just the client that's important—it's the entire team.
"Equally, you have to know and learn your staff," he says. "If you know the people on both sides, it will all fall into place."
And having a staff that gels is important.
Who takes care of your facilities?
Donald is one of many stories we have from the field that demonstrate how our team's culture is the backbone of our service delivery success.
Get inspired and read more stories about employees just like Donald.
Let's connect about how our highly engaged team can help you.