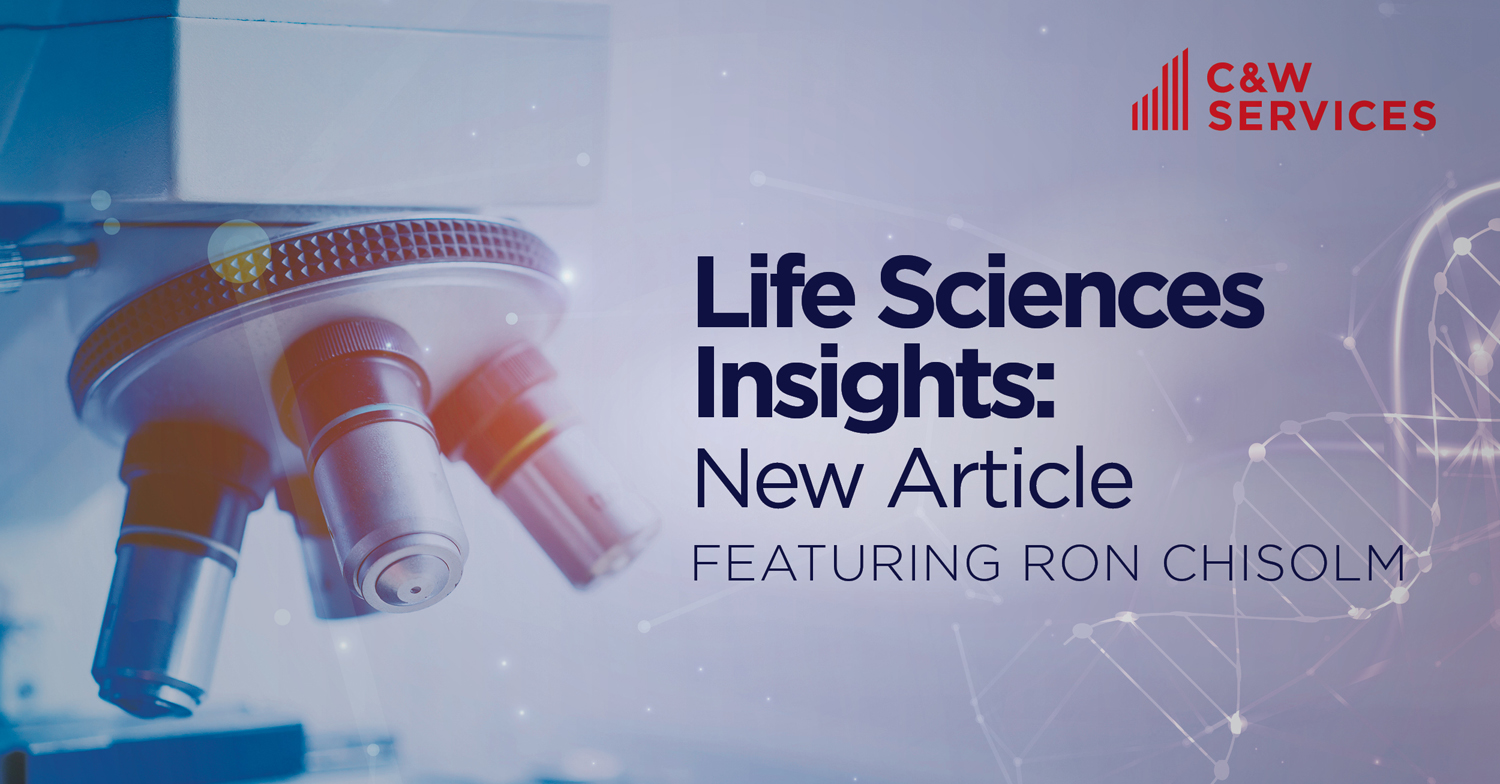 In the wake of the pandemic, the Life Sciences sector witnessed a surge in growth and funding, driven by the urgent need for new drugs and solutions to combat infections caused by the virus.
However, as the pandemic's effects began to wane, the flood of funding started to decrease in 2022. Amidst the challenges of rising material costs and labor shortages, the Life Sciences service segment stands at a crossroads, prompting companies to reevaluate their strategies for continued growth and customer satisfaction.
Ron Chisolm, Senior Vice President of Client Services joined in April to oversee the growing portfolio of Life Science clients across North America for C&W Services.
Recently, Facilities Dive sat down with Ron to talk about the Life Sciences sector and his strategic vision for the future to support the evolving needs of the Life Sciences industry.
1.

The Evolution

of

Needs

for

Life Sciences

 
C&W Services recognizes that whether operating as a start-up or a well-established pharmaceutical giant, organizations should aim to support the evolving needs of Life Sciences companies. This is done by leveraging expertise, implementing data-driven technology, and offering on-demand services. Service providers must partner with clients to develop solutions that are proactive, flexible, and scalable to support critical environments that have regulatory and compliance requirements.
2. Differentiators in Services: Compliance and Cost Efficiency
As the Life Sciences industry is heavily regulated, compliance with Good Manufacturing Practices (GMP), FDA, and ISO standards is crucial. Chisolm highlighted C&W Services' commitment to demonstrating expertise in managing facilities in accordance with these rigorous regulations, earning clients' trust and confidence.
Additionally, Chisolm acknowledged the criticality of cost efficiency, and the correlation between cost and quality service standards. Managing inflationary markets is challenging for any industry, and Life Sciences is certainly not immune to these challenges. Chisolm highlighted the focus that C&W Services places on implementing demand-driven soft services and shifting to predictive maintenance in hard services. This is driven by innovative service solutions that embrace technology and leverage economy of scale driven by subject matter expertise. These innovative approaches optimize resources and deliver cost-effective solutions without compromising service quality.
3. Workforce Investment: Being People First
With a shortage of labor in most markets, Chisolm stressed the importance of fair compensation to retain skilled workers as a premiere service provider. Supporting a sizeable Life Sciences portfolio, C&W Services is poised to offer further growth potential for existing employees. Thus, C&W Services aims to incentivize workers with profit-sharing, additional benefits, and amenities to ensure a stable and experienced workforce, which ultimately benefits clients and their operations. These efforts are compounded by ongoing learning and development opportunities and the expertise provided from a centralized center of excellence to support the Life Sciences industry.
CLICK HERE to learn more about our Life Sciences capabilities.