C&W Services East Region Holds First Annual Holiday Food Drive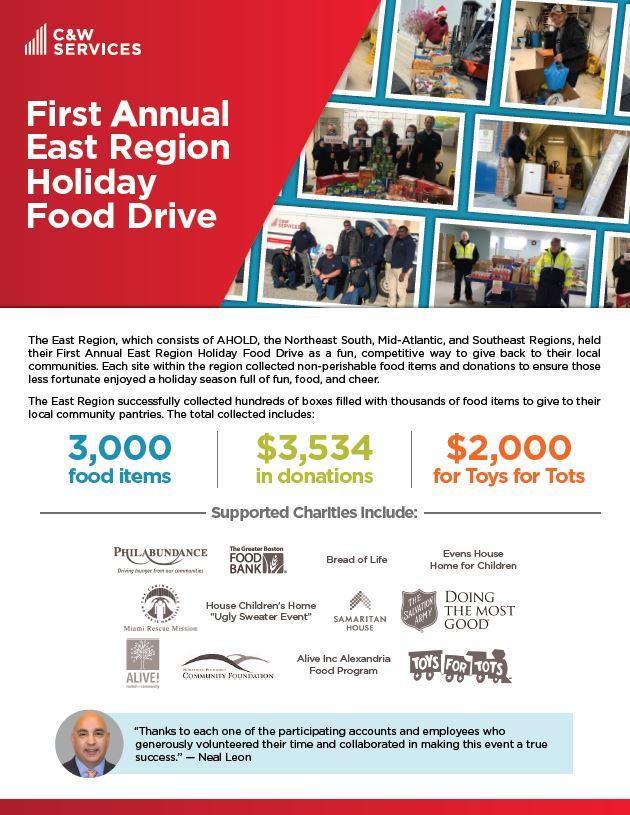 The C&W Services East Region, led by Neal Leon, Senior Vice President of Operations, actively participates in donating, volunteering, and advocating for charitable giving throughout the year. As part of this mission, they held the First Annual East Region Holiday Food Drive.
The event ran from November 12 through December 13 as a fun, competitive way to give back to their local communities. Each site within the region collected non-perishable food items and donations to ensure those less fortunate could enjoy the holiday season.
The East Region, which consists of Ahold, the Northeast South, Mid-Atlantic, and Southeast regions, selected their local charities and began their collection. What began as friendly competition quickly shifted from "winning" to "giving." Milly Diaz, Senior Director of Operations for the Southeast, summed the experience up best, "It was 'game on' when we first heard of the food drive competition. Our determination to win, however, quickly shifted, making giving better than receiving a reality."
At the conclusion of the 30-day drive, the East Region had collected hundreds of boxes filled with thousands of food items to give to their local community charities.
The total included 3,000 food items, over $3,500 in monetary donations, and $2,000 for Toys for Tots.
Proceeds from the event benefited local charities, including the PhilAbundance, The Greater Boston Food Bank, Bread of Life, Evens House – Home for Children, Miami Rescue Mission, House Children's Home, The Samaritan House, The Salvation Army, Alive – Rooted in Community, Fauquier Food Bank, Alive Inc. Alexandria Food Program, and Toys For Tots.
Neal expressed his appreciation for his team's effort stating, "Thank you to each one of the participating accounts and employees who generously volunteered their time and collaborated in making this event a true success."
Download the overview of the East Region Holiday Drive here.