Starting out as a frontline janitor, Holly Borrego now finds herself in a director position at C&W Services.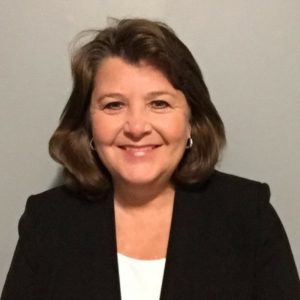 A world of experience
We all start somewhere. For Holly Borrego, that somewhere was cleaning restrooms part time as a frontline janitor in the mid-1980s. Now, Holly is the new senior director of cleaning services at C&W Services.
"Years in the field have given me the experience to know how long it takes to do something and how important the tools and machines are in the cleaning process," she says. "I focus on the efficiencies machines bring to the operations to help managers achieve their financial targets."
After her first janitorial position, Holly—who joined C&W Services in July—climbed up the ladder, holding every field-level operations position up to her current role. For Holly, her field experience is what makes her stand out in the corporate world.
"I understand how physically demanding the work is," says the Baker University graduate. "I try to focus on making the work easier by incorporating better machines and tools."
Putting innovation to work.
During her first year, Holly is looking to introduce a number of innovative projects to the marketplace. Most important to her are those that positively impact labor costs and reduce the likelihood of workplace injuries. As well, Holly wants to hone in on operations training and labor calculation tools.
"My goal is to build the processes and tools that operations need to deliver on our promise to the customer," she says. "Bringing innovative solutions that contribute to our competiveness will be a big focus along with driving the quality program."
Holly's background and experience reflect C&W Services commitment to providing customers with innovative products and services.
Changing the narrative.
Because of this background in cleaning services, Holly understands the importance of diligent janitorial work and how it makes as much of a difference for clients as electrical, HVAC and mechanical services. As an example, Holly cites the implementation of open offices spaces. While practical, these layouts can help spread illnesses, leading to increased employee absences. Disinfection, then, is key to workplace productivity, just as electricity is vital to the office environment, and that's the position Holly wants to stress.
"Cleaning is a very technical service, but it isn't viewed that way by everyone," says Holly. "I hope we can eventually change that perception."